It is the start of another year, which means your inbox and social media feeds are filled with the resolutions you should be making in the name of self-betterment.
Instead of adding to this pile, which no doubt becomes so overwhelming it makes you want to throw in the towel before you've even begun, I offer you this: Try doing something new for no reason at all. Or rather, not for no reason, but do it because you want to, even if some enlightened version of yourself is not visible at the finish line.
Take learning, for example. I guarantee there is a topic out there that has the power to excite you to learn. It is likely you can think of a few unusual subjects that have always piqued your interest.
In my own pursuit of learning, I discovered a website called Coursera. This free, online platform offers classes in just about every subject imaginable taught by professors from prestigious universities all over the world.
Immediately upon my discovery, I enrolled in "Moralities of Everyday Life" taught by Yale University's Paul Bloom. The course looked at issues like kindness and cruelty, psychopathy and the origins of morality. I was fascinated from start to finish.
My taking the course was purely self-indulgent; I do not plan to further my studies in psychology, nor can I see any useful application of the lessons to my job or personal life. Despite this, I think I gained a lot from the course. I was excited about what I was learning on the days I spent time working through the course, my mood was better, and the conversations I had were terrific. Who knew others, too, would be so interested in the nature and origins of morality?
If Coursera doesn't inspire you, there are other options. Duolingo is a free app that makes learning a new language feel like a game as it rewards your progress, which is good if you need that kind of motivation.
Masterclass is another interesting option; with a yearly pass, you get access to classes taught by some of the foremost experts in their fields. They range from baking to survival to skateboarding. I gave my dad a membership for his birthday last year, and I hear he is telling anyone who will listen about Chris Hadfield's insights into preparing for life on the International Space Station.
As always, there is much to be learned from the pages of this magazine. Contributor Ryan Leiterman reflects on 10 years of working with his family to share three valuable lessons he has learned on the farm (Lessons learned from 10 years in a family business). Bankers Timothy Shuh, Travis Riddell and Jeroen Slits suggest ways to resolve and prevent the disconnect that often forms between farmer and banker in their article (Help your banker help you: Talk early, often and openly). Columnist Katie Coyne proposes another avenue for learning, she discusses how picking a mentor can encourage your success in the show ring (Pick a mentor, set goals and seek success).
A new year can signal a fresh start, but that start doesn't have to be daunting. Perhaps finding an avenue to learn something new just for the sake of it is the perfect way to hit refresh in 2022.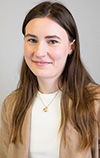 Emma Ohirko

Editor
Progressive Dairy