Due to ongoing measures to limit the spread of the coronavirus, my Christmas is going to be quite a bit quieter than usual this year. There will be fewer parties, no kids' concerts and not as many holiday activities.
While some people have had their Christmas decorations up for weeks, ours are buried deep in the basement behind our other belongings stored for the duration of our remodeling project. The idea of digging them out seems daunting – and even if we did, I'm not sure where we can put any to display.
My spare time has been consumed with picking out flooring, fixtures, brickwork and paint colours, and not on gift lists and holiday menus.
I'm half-tempted to say, "Bah humbug" and let it pass by. Maybe I can take a page from Skipping Christmas by one of my favourite authors, John Grisham. (More well-known as its film adaptation, Christmas with the Kranks, starring Tim Allen and Jamie Lee Curtis.) But even so, they found Christmas to be worth celebrating.
That's because Christmas is more than the meal, the gifts, the decorations and the activities. It is even more than the family gatherings. Christmas is the celebration of the birth of our Saviour.
Jesus wasn't born in a palace. There weren't any feasts or parades to mark the occasion. It was as simple and quiet as could be with a young couple and a newborn baby in a lowly stable. Only a few shepherds came to observe what had occurred.
Our current society may be caught in the hype of the holidays; however, there have been plenty of past Christmases when people have celebrated with far less than what we have today.
Back in 1816, after the Napoleonic wars had wrecked parts of Europe, a young priest in Austria named Joseph Mohr wrote the words to one of the most popular Christmas hymns to forever remind us how simple and quiet that first Christmas was.
Nearly 100 years later, it was said this song was sung in the trenches on both sides of the World War I battlefields.
Even if we can't all celebrate Christmas like we did last year, we can always rejoice as the shepherds and angels did on that silent night, that holy night.
Merry Christmas!
Silent night, holy night
All is calm, all is bright
'Round yon virgin Mother and Child
Holy infant so tender and mild
Sleep in heavenly peace
Sleep in heavenly peace
Silent night, holy night!
Shepherds quake at the sight!
Glories stream from heaven afar;
Heavenly hosts sing Al-le-lu-ia!
Christ the Savior is born!
Christ the Savior is born!
Silent night, holy night
Son of God, oh, love's pure light
Radiant beams from Thy holy face
With the dawn of redeeming grace
Jesus, Lord at Thy birth
Jesus, Lord at Thy birth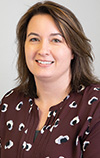 Karen Lee

Editor
Progressive Dairy