Over the past few weeks, I've been involved in a project that has me reviewing every article we've ever published in our Canadian edition. In a little over 10 years, the list totals 4,108 articles … and counting, as we've just added more with this issue.
A somewhat overwhelming task, it has also been fun to see familiar faces, relive the stories and how they came to be, and remember the highlights of the past. I equate it to looking through your own herd book and seeing cow names, remembering their dams and the sires you used over time.
It's great to look back just for remembrance's sake, but at the same time, it makes you take stock in how far you've come. The articles we now publish are not the same as they were 10 years ago, nor is the industry or the cows in your barn.
We are constantly evolving – changing over time due to the circumstances that change around us.
We see a great example of this at Robella Holsteins in Balgonie, Saskatchewan. A farm decision to switch from a tiestall barn to an automated milking facility, coupled with a shift in the replacement market, resulted in the Lindenbach family adjusting their breeding strategy. Their desire to breed productive animals hasn't wavered, but how they achieve this within the herd is different today than 10 years ago. Read their full story - A new barn ushers in a new breeding philosophy for Robella Holsteins.
Another big shift due to changing circumstances is virtual education. As classrooms adjusted between in-person and virtual learning this school year, teachers and schools changed the programs they could offer.
Field trips to farms were not possible, but with some creativity there was still fun to be had. An Adopt-A-Cow program brought farming into 1,600 classrooms in Canada this year. The students were assigned a calf on a farm and would receive updates on its growth throughout the year. Ideas for classroom activities were provided, and in the spring, they met the farmer for a virtual farm tour. Check out one Ontario classroom's experience (Adopt-A-Cow program brings dairy to classrooms).
This program saw more than 700% growth this year compared to the year prior, due in large part to the pandemic, which has brought about change for all of us in one way or another. The virtual connections we now make can never truly replace an on-farm visit that engages all of the senses, but I believe there is a place for them.
While we hope for the return of normalcy as soon as possible, we will also integrate tools and methods we used during the last year into our daily lives, and they will stay with us for years to come.
We are living through history in the making. Someday, if I revisit these articles, I hope the pandemic is a distant memory – one to take stock in and see how far we've come.
Meanwhile, let's be sure to raise a glass of wholesome, nutritious milk in honour of World Milk Day. Cheers!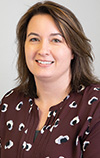 Karen Lee

Editor
Progressive Dairy