Throughout the pandemic, many have argued politicians and the public have pushed climate change issues and the fight for a sustainable future to the wayside. While there is likely some merit to this argument, our ongoing battle to ward off COVID-19 and all its variants certainly demands a lot of resources.
However, following last year's COP26, the issue of sustainability has once again returned to the forefront of public and political discourse.
My dad is known throughout the Rockies and southern Alberta for his technical knowledge and aptitude at troubleshooting solar thermal systems, so as the daughter of a solar-power enthusiast, a level of consciousness towards the impacts of my choices on the environment has permeated many of the lessons instilled in me.
Nevertheless, in my experience, sustainability has often felt inaccessible. The "sustainable" choice tends to be cost-prohibitive, unavailable in some regions or impractical, not to mention many eco-conscious products or initiatives lack transparency and rely on marketing that persuades individuals to believe they are largely culpable in the climate crisis.
On more than one occasion, any one of these factors have deterred me from picking the sustainable option, leaving me disheartened in the face of mounting sustainability concerns, especially when presented with statistics that do more to shock than inform.
It was refreshing, when I joined the Progressive Dairy team, to be overwhelmed by the forward thinking of so many innovators in the industry. I find concepts like evolving trends in manure-handling practices to reduce emissions, explored in the article "The dairy cow and manure technology, moving us into the future", and the installation of anaerobic digesters to produce on-farm biogas, discussed by panelists, read the article "Pennsylvania panelists: 'Can biogas production venefit your farm?'" equal parts fascinating and exciting.
The recent announcement made by Dairy Farmers of Canada (DFC) to target net-zero greenhouse gas (GHG) emissions from farm-level dairy production by 2050 suggests innovations like those mentioned above will only continue to materialize. I think the dairy industry, and farmers in general, are well positioned to establish goals like those announced by DFC.
A growing disconnect with consumers, many of whom continue to prioritize sustainable choices, albeit using criteria that are often tough to define and highly variable, has the potential to be mended, at least in part, through these types of targets.
Earlier this year, I attended Grey Bruce Farmer's Week. During the virtual event, I tuned in to the panel discussion focused on the sustainability of Canada's dairy industry – and although the discussion did not elicit any major revelations, it did offer insights reinforcing the importance of collaboration and a varied approach to tackle sustainability as an industry. Go to "Three panelists weigh in on the sustainability of the Canadian dairy industry" and read more about the panelists' visions and thoughts on the role of sustainability in dairy today and in the future.
It goes without saying that meeting sustainability goals is no small feat. As contributor Yasir Khokhar describes in the article, "Pathways need a path: The promise and challenges of reducing livestock emissions" some emissions targets, like those focused on the reduction of methane emissions by the livestock industry within the next eight years, seem ambitious under current conditions.
Still, hope remains. As past initiatives have exemplified, Canadian agriculture is resilient and adaptable. The industry is full of innovators constantly producing solutions to the problems they face.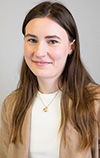 Emma Ohirko

Editor
Progressive Dairy