A few days ago, I got a phone call from a number I didn't recognize. Working as an editor, this is not an uncommon scenario; I am often calling numbers not saved in my contacts or sending emails asking for a call back so, like always, I answered.
Immediately, I could tell the caller was a telemarketer. There was that tell-tale awkward pause after I picked up, but just to be sure, I waited to hear why whoever was on the other end of the line was calling.
The telemarketer introduced herself, and when I asked why she was calling, her response – I can't lie – was a little soul-crushing. "Can I speak to your mom or dad, please?" she asked. I was in shock. I thought, "I can't sound that young, can I?" I fumbled for my words and simply replied, "Pardon?" Surely after hearing me speak a third time, she would recognize her mistake and realize she was talking to an adult. Unfortunately for me, that was not the case. Her response was this: "Don't worry, I will call back another time when your parents are home."
At this point, every single cold call I've ever made is replaying in my mind, and I am wondering how many times I have called someone, and they have answered thinking I was a small child. Needless to say, the whole experience was pretty humiliating.
So what does this have to do with this month's Progressive Dairy? To be honest, I'm not sure. Normally, I would find a way to tie my anecdote into a larger theme covered in the issue, but for now, I'm still spiralling from the whole experience. It's funny how a 30-second phone call with a stranger can have that effect.
While I recover, I'll tell you about some of the great content we have in this issue. Starting with the stunning spread "World Milk Day", which takes you on a journey through some of the amazing ways World Milk Day is celebrated across the globe. After you peruse that, Karl Burgi offers a valuable tool in his article "Recover more of your lame cows: here's how". The table he has developed will help you troubleshoot a variety of lameness problems you may encounter on your farm. I connect with the latest Agropur milk quality champions, Ferme Morine, to ask co-owner Véronique Lévesque about a few of the tools she can't farm without "5 things I can't do without- With Véronique Lévesque from Ferme Morine". Finally, "Alfalfa to improve the digestibility of forage in the diet" makes the case for genetically modified alfalfa, showing some promising results for its role in improving forage digestibility.
Hopefully, you can find value in the pages of this magazine, and you continue to month after month. There is a small village of great people who work hard to make this and every issue of Progressive Dairy something that inspires you and helps move your operation forward.
In the meantime, I'm still waiting for my call back so I can redeem myself and let the telemarketer know I am in fact an adult – and no matter how many times she calls back, my parents won't answer.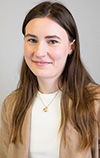 Emma Ohirko

Editor
Progressive Dairy