These days, bad news abounds.
I don't often tune in to the nightly news, but when I do, I can't help but notice the abysmal picture it tends to paint of our current reality.
A scroll through social media is all but guaranteed to provide an update on the turmoil facing some part of the world. Even some of the pages of this issue bring bad news; despite his optimism, Vincent Cloutier, senior adviser at National Bank, warns of the challenges facing the dairy industry, and columnist Ryan Dennis reminds us of the realities of the climate crisis.
Escaping the bad news cycle can be hard, but I don't think ignoring these warnings or flipping the page to a less worrisome article is the answer either. Apathy and ignorance towards the challenges facing our communities and the globe do nothing to solve them; however, for sanity's sake, I think good news deserves a lot more attention.
One of my favourite accounts to follow on Instagram is @the_happy_broadcast. They share a lot of amazing innovations helping to create real change around the world. Every Sunday, they post a weekly roundup of good news stories, promoting a "happier" outlook on world affairs. The stories come from every corner of the world, and the headlines cover such a wide range of issues I think everyone can find a piece of uplifting news in their posts.
There are plenty of other good news sources out there too. Websites like Positive News and Good News Network publish all kinds of good news, and many mainstream news platforms have dedicated good news sections on their websites. TED Talks can be another great source of uplifting messaging.
November is an especially challenging month in terms of bad news. Remembrance Day brings up the solemn but necessary commemorations of those who have sacrificed for our country and the dire fate they fought to keep us safe from. But even these moments have their positives if you know where to look. Remembrance Day reminds us there are heroes who have and continue to go above and beyond the call of duty. It also helps instil a sense of gratitude for how fortunate we are to live in such a wonderful place.
And even though the first signs of winter and the reminders of the dark months to come tend to rear their ugly heads this time of year, they too have their perks; Christmas is coming, and it is finally time to dust off our skis and skates.
Finding a balance between good and bad news helps me maintain a more optimistic perspective on the world. Yes, terrible things are happening everywhere, all the time, but there are also great things happening every day, even if they seem harder to find.
If you would like some good news and you're looking for a place to start, check out the article "Improvements in lameness detection" for new research results on a simple step to improve lameness detection, or read "The energy-independent farm is within reach" to learn about the promising future of energy-independent farming.
Seek out the good to keep cynicism at bay and remember to treat yourself to some positivity every once in a while.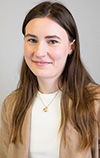 Emma Ohirko

Editor
Progressive Dairy