While many restrictions related to the COVID-19 pandemic are easing up, supply chain issues ignited by shutdowns look to continue for some time.
We've been dealing with them in one way or another throughout the year. We've already been warned that empty store shelves and shipping delays are expected to be a challenge for holiday shoppers. As best as we can plan and work in advance, there is a chance Christmas won't be as we expect. The perfect gift may not arrive on time, certain decorations could be hard to come by, and there may be a traditional dish missing from Christmas dinner because an ingredient was out of stock.
Christmas doesn't have to be picture perfect to see the joy in the holiday, for it wasn't so on the first Christmas.
After visits from angels and learning they were to be parents of God's son, Mary and Joseph knew they needed to prepare for His coming. Like other expecting parents, I imagine they made or borrowed items like a cradle, small clothing and blankets. Mary probably sought advice from a local midwife or other women nearby to prepare for the birth. Together, they likely often talked about what life would be like raising a child, especially the long-expected Saviour.
But then, following a decree from Caesar Augustus, Mary and Joseph were faced with a challenge. They had to leave their hometown of Nazareth to travel to Bethlehem to participate in the census. Anticipating the baby could arrive while traveling, they may have packed some necessary items, but I'm guessing the cradle was left behind.
Then, when it came time for the baby to be born, there was no room in the inn. Instead, they sought shelter in a barn and placed God's son in a manger.
The first Christmas wasn't "perfect" by most standards, but it was perfect in its own way. Shepherds came to visit and spread the good news, and praises came from the Heavenly Host saying, "Glory to God in the highest, and on earth peace, good will toward men." (Luke 2:14)
It was filled with love, joy and peace. Those are the gifts we can give no matter the circumstance. They don't get back-ordered or held up with shipping delays. They are as abundant as you make them.
Sometimes the unexpected is more memorable than the long-standing tradition. The delayed Christmas gift could make for a wonderful birthday gift next year. The tree with a burned-out strand of lights that couldn't be replaced will be talked about for years to come. And that favourite Christmas dish might be even better when a new ingredient is swapped in.
My children will always remember the Christmas we had last year in the middle of our remodel with stockings hung on drywall and the tree without breakable ornaments for fear it could be hit by someone working nearby. We only had a few days to celebrate before packing everything up and getting back to work, but for a moment we embraced the holiday filled with love, joy and peace, for that was what mattered and not the circumstances we were living through.
Christmas comes with or without your best-laid plans. As we embrace the Advent season and this time of preparation, let's remember how Mary and Joseph were able to adapt and still celebrate the love, joy and peace found that first Christmas night.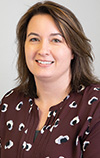 Karen Lee

Editor
Progressive Dairy