In March, Dairy Farmers of Ontario Chairman Ralph Dietrich and Vice Chairman Murray Sherk traveled to Wisconsin at the invitation of Wisconsin Farmers Union President Darin Von Ruden. The Wisconsin group set up a handful of meetings across the state as a forum for farmers to gather and learn more about Canada's supply management system from producers with firsthand experience.
I was able to attend one of the meetings with about 70 other people. There were dairy farmers, representatives from government offices and other dairy organizations in the room.
Dietrich and Sherk gave a comprehensive overview of supply management from how and why it started to its current structure today. They covered how quota is allocated and traded, working with processors, the new entrant programs and the new ingredient strategy. Afterwards, they fielded questions from the floor.
A few dairy producers in the room publicly announced they would be in support of a similar system put in place in the U.S., as the current situation of an oversupply of milk driving the price of milk below cost of production is taking its toll and putting the future of many dairy farms in jeopardy.
At the end of the event, the biggest question in the room was: "What to do next?" For now, people were encouraged to spread the word. One of the sessions was recorded and available to view online.
Organizers suggested attendees share that link to inform more people. In addition, Wisconsin Farmers Union set up a few viewing sessions around the state in April for anyone who missed the first round of meetings.
While these meetings are a big step in advancing the discussion of a potential supply management system, it is still a rather small segment of the U.S. dairy industry having these discussions.
Currently, there are almost four times more dairy farms in the U.S. than in Canada. That is a large number of producers that would need to come to a consensus to shape new dairy policy. Albeit, the number of U.S. dairy farms today is actually one-third the number of Canadian dairy farms in 1970 around the time supply management was established.
In addition, even though milk prices are depressed, in talking with other producers there are many in the U.S. that remain in favour of a free enterprise system.
Regardless of what path this movement takes in the U.S., I think it was a great step for Dietrich and Sherk to take the time to travel around Wisconsin and talk with producers there. It was also said Von Ruden attended a Dairy Farmers of Ontario meeting in January.
As I cover dairy news in both countries, I find there are several misconceptions about the industries on each side of the border. Perhaps the more interaction that occurs between producers, the more truths can be discovered.
One truth I know I have seen is: Whether Canada or U.S., supply management or free enterprise, dairy producers in both countries are passionate about what they do, how they care for their cows, how they provide a living for their families, how they produce healthy food and how they support their local communities.
I think there is a lot that could be gained when differences are put aside. Finding various avenues to have these conversations whether in formal meetings or social media can help producers in Canada and the U.S. learn from one another and advance their own operations in various ways.
Go to the WisconsinEye website to view one of the meetings hosted by Wisconsin Farmers Union on March 15.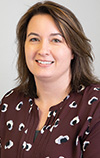 Karen Lee

Editor
Progressive Dairyman