The holidays are a time for family and togetherness, which brings warmth to the hearts of many. However, for those who have a lost a loved one, the holidays can magnify their grief.
My paternal grandmother passed away this fall at the age of 90.
She was the one who lived just up the road and watched my siblings and me whenever my parents were busy with fieldwork. On a 60-cow farm with no hired help, it meant we spent a lot of time at Grandma's house.
But of all the days, the Christmas days at Grandma's stand out above the rest. When we all came together as a family – aunts, uncles and cousins – to share in the joy of the holiday.
It was a luncheon celebration to fit between morning and evening chores at each family's farms.
We would dine on ham and scalloped potatoes and an assortment of sides. There were many desserts to choose from, including a birthday cake for Jesus my aunt always brought.
After lunch, my cousins and I would go sledding while the grownups cleaned and enjoyed a little peace and quiet. Then it was time for presents.
Grandma only gave us clothes, which was not very appealing for little kids. But as we grew, we hit the milestone gifts all handmade by Grandma – quilts, afghans and Christmas tree skirts were given to mark special moments in our lives.
There were so many of us in that little house for Christmas. It became even smaller as we grew older and then started bringing significant others.
Eventually, as the family grew and Grandma downsized to a smaller home, we had to gather at the town hall and then at the commons in her assisted living facility.
Regardless of the location, year in, year out, we came together as a family. And there, in the center of it all, was Grandma, always with a smile on her face.
It wasn't long after Grandma's passing family members decided there should still be a family Christmas party.
As much as I am looking forward to spending an afternoon with my aunts, uncles and cousins again, I know it will be a difficult day without Grandma.
Sadly, I will not be alone in my sorrow. This issue contains more stories of loved ones lost and families who will be grieving at Christmas.
We hear about the Schuurmans family who lost their wife and mother in a tragic tractor accident this summer on page 20. Yevet Tenney talks about the loss of a grandchild in her Christmas message on page 68.
Just as Tenney writes, I know there is gratefulness even while grieving. And what better time to be grateful for a special gift than Christmas.
The sadness of loss is much easier to bear in knowing my grandmother received the gift of eternal life. Her body was laid to rest next to my grandfather, who passed away 16 years before her.
It is comforting to know their souls have been reunited, fulfilling a desire she had carried all that time.
This eternal life is possible because He lived. It is part of God's plan and why His son was born on earth. It is why, despite the sorrows, we will celebrate this Christmas.
On that day in Bethlehem, we were given God's greatest gift – a gift that gives life even in loss.
From my family to yours, I wish you a Merry Christmas!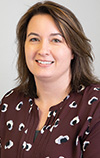 Karen Lee

Editor
Progressive Dairyman