A year ago, I wrote about the home remodeling project we were starting. I am happy to report we are enjoying our new addition with each of our children now having their own rooms, and I finally have a dedicated office space.
While we moved into the addition as rooms were deemed finished in February, I still hesitate when someone asks if the project is done. Occupancy occurred as a necessity. We had to move into the new space to vacate areas of the existing house so they could be worked on as well. There were also a few jobs, like landscaping and finishing the woodwork on the windows, that needed to wait for warmer weather. We continued to check off some remaining tasks over the summer, but as life picked up its normal pace, there are still some last little bits of work to be done before I can confidently say it is 100% done.
Although, home ownership, like farm ownership, is never complete. There will always be something to repair or consider redoing.
You probably have a list of things that you want to get done on your farm buildings that you work on as you can get to them. However, sometimes we get used to our surroundings, and we might not notice a change is needed.
Our kitchen, laundry room and bathroom were the only rooms not touched in the remodel. They had been built new 13 years ago and seemed perfectly fine. However, now that they sit next to freshly painted rooms with new flooring, I see it from a different point of view and have added to my list some things I'd like to do in this space too.
In this issue, Jeffrey Bewley points to several things to look at in a freestall barn to see if renovations may be necessary. From stalling to fans to concrete, he'll walk you through the barn to find areas where cow comfort might be improved with a little renovation. Check out his lists of tips, read the articles Flipping your freestalls: 5 tips and Flipping your freestalls: 4 more tips.
Perhaps you are considering new construction instead of renovating. In this case, it is important to think through the overall footprint of the operation, as it is hard to move something once it is in place.
Outside my office window stands a big, beautiful maple tree. The tree provides great shade for the house and the back yard. We didn't want to lose it, so we had to work around it. I had nothing to do with where the tree was first planted, but it certainly affects me now. A few of my initial designs for the addition were not viable due to the tree's permanent placement.
You might find yourself in a similar situation on your farmstead where a building or silo was placed by a previous generation, but now seems to be in the way of your next project. David Kammel and Jouni Pitkaranta talk about the importance of a farmstead master plan to allow for long-term site development. Taking time to do a master plan now will aid in decision-making in the future. Read Long-term planning: How to develop a dairy farmstead master plan.
Whether tackling a touch-up, renovating or building new, I wish you the best of luck with your facility projects.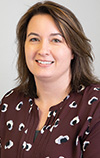 Karen Lee

Editor
Progressive Dairy