I have been a tennis fan all my life. In fact, one of my earliest memories is sitting in my living room cheering on Roger Federer during his first grand slam win at Wimbledon in 2003.
In January, after years of counting down the days between major tennis tournaments, I finally decided to enroll myself in tennis lessons.
Fast-forward a few months, and I find myself in possession of a few new tools, including the best advice my coach has given me so far. This advice is in reference to what he refers to as the real challenge on the court. Practice after practice, he offers the same guidance: The biggest obstacle is not your opponent; it is your ability to hit the ball over the net.
I find this immensely helpful because I know if I don't put in the work on my side of the court to get the ball over the net, there's not much of a match to be had, no matter how good or bad my opponent may be. My own actions on the court dictate how difficult this challenge can be. To succeed, I need to make the most of my skills. Focus, speed, resolve and attitude all have a role to play in my ability to hit the ball over the net.
This idea is repeated to me several times a month, and I now notice it influencing my mindset off the court. When I encounter a problem, I am more inclined to wonder what tools I possess to set myself up for a win. At work, I have started to recognize these opportunities elsewhere too.
For example, I recently attended the Animal Nutrition Conference of Canada and one of the presentations I covered examined the dietary tools available to reduce methane emissions. I summarize these tips to minimize enteric methane emissions, many of which involve tweaking common dairy cattle diets, (Leveraging current dietary tools to reduce methane emissions). While utilizing some of the techniques discussed will not bring emissions down to zero, a new application of available tools can be a step in the right direction.
Similarly, John Molenhuis emphasizes the value of justifying an equipment purchase rather than relying on affordability as the sole criteria. To expand on this point, his article (Can you justify it? A look at managing machinery costs) demonstrates the value of referencing year-end financial statements when evaluating machinery costs.
Furthermore, if you are interested in a strategic way to develop your farm's strengths overall, consider the three keys to growth outlined by Christina Winch in this month's HERd Management column (HERd Management: The 3 keys of growth: Awareness, design and curiosity). In the column, Winch details how a simple SWOT analysis can push your farm toward the progress you desire.
This summer, if rising input costs continue to impact your bottom line or poor growing conditions loom, recognize that the obstacles ahead may require creative use of the tools at your disposal. Many of life's trials and tribulations are out of our control; nevertheless, it is always worth it to apply our skills and know-how to hit the ball over the net and give ourselves a fighting chance.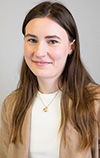 Emma Ohirko

Editor
Progressive Dairy