There are plenty of stories throughout the dairy industry about herds that started with their first 4-H heifer calf. While I was a 4-H dairy exhibitor myself, I did not think it was going to be part of my story … until recently.
Early last month, as I found myself standing next to our just-freshened heifer, trying to keep her calm for her first milking, I couldn't help but reflect on what transpired over the last two years to reach this point.
Coincidentally, it sounds like a spin-off of the classic children's book If You Give a Mouse a Cookie, which also leads you to a glass of milk.
If you get a heifer calf, it's going to grow into a yearling. If you intend to show the yearling, you're going to want the heifer to be bred. When you breed the yearling, it will have a calf. When the calf is born, you'll need to milk the cow. Once the cow is milked, you use it to feed the new heifer calf.
This cycle is all well and good for dairy operations that have the facilities, equipment, labor and intentions to manage this continual process. I, on the other hand, am here by happenstance.
On March 14, 2020, as the world was shutting down for its initial response to the COVID-19 pandemic, we went to my family's dairy farm to borrow a 4-H calf for my daughter to show that summer and an extra calf to serve as an alternate and penmate.
As we spent a lot of quality time at home that spring, my daughter grew used to her daily chores and working with her calf. However, the world did not open as we originally hoped, and she wasn't able to show the calf as intended that summer. I was outvoted that August when I suggested the calves return to their home. The idea began to percolate that we would keep them another year, and thus the chain of events described above.
The notion gained steam. Our small barn with five bedded-pack pens for raising feeder calves gained a couple of stalls. This winter, my husband assembled a rudimentary milking system with a vacuum pump that's the same model my grandfather used in the 1950s and a claw unit purchased from a goat farmer up the road.
Like others managing dairies and off-farm jobs, we're milking 2X – before work and after work. The milk is fed to the heifer calf and barn cats, and hopefully soon to a few feeder calf penmates too.
Since the original pair of heifers didn't settle at the same time, our labour efficiency on this one-cow operation isn't a number anyone would want to benchmark against. However, by the end of this month, we should double our farm's production. Yup, two cows, which means we'll have our own herd.
Shortly thereafter, I hope whatever point there was to all of this has been proven, and these cows can finally return to their home farm. Although, the new heifer calf we're feeding each day is pretty cute. I think we might just keep it …
Photo provided by Karen Lee.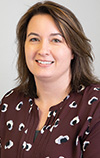 Karen Lee

Editor
Progressive Dairy