This month, literary lovers around the world remember a man who inspired reading in children one rhyme at a time. Theodor Seuss Geisel, more commonly known as Dr. Seuss, passed away in 1991, but his beloved books continue to live on.
Today, schools and libraries use his March 2 birthday as a time to celebrate his work.
Dr. Seuss wrote and illustrated more than 60 children's books. A few favourites in my house include Dr. Seuss's ABC, And to Think That I Saw It on Mulberry Street, Green Eggs and Ham, How the Grinch Stole Christmas and Mr. Brown Can Moo! Can You? It is the last book he published in his life that comes to mind today. Oh, the Places You'll Go! is a masterful tale of moving forward in life and overcoming challenges.
As I read through this book, I can't help but draw some similarities to several of the articles you'll read in this issue.
The main character sets out on a journey through life and, in doing so, they are encouraged to use their smarts to pick which direction to go. In the article "Get out of 'Theory Land' and move to 'Realville,'" dairy manager Harley Wagenseller also encourages people to seek out and use the knowledge they've acquired to find the difference between "Theory Land" and "Realville" when making decisions on the farm.
As the book continues, the character begins to notice things are happening around them. Thanks to the National Dairy Study conducted by researchers in 2015, we are able to see what is happening in the industry around us. In the article "How do reproductive management practices vary across Canadian dairy farms?," Sabrina Van Schyndel, one of the graduate students that worked on the project, shares a summary of reproductive management practices used across Canada from results of the study.
The journey of life isn't always easy. Dr. Seuss writes, "that bang-ups and hang-ups can happen to you." We know farming is a stressful business and thankfully mental health is being addressed more and more in the industry. A webinar series, "Cultivating Resiliency for Women in Agriculture," was designed to help develop and nurture hope, faith, optimism and resiliency, especially during financially stressful times. Read a summary of the first webinar "Beyond commodities: Channel farm stress by nurtuting faith, hope, optimism and resiliency."
The book also encourages people to "face up to your problems whatever they are." The Efficient Dairy Genome Project (EDGP) is one way the industry is facing up to its methane problem. This massive international undertaking is aimed at improving feed efficiency and reducing methane emissions in dairy cattle using genomics. Highlights of some of the research thus far can be found in the article titled, "Efficient Dairy Genome Project seeks to increase feed efficiency, decrease methane emissions."
Another problem facing the industry is maintaining water quality. The article, "What does the future hold for nutrient management practices?" looks to the future of nutrient management, what precision application means and steps that can be taken today in handling manure to better protect the environment.
From these articles and more, it is exciting to see the many people and various research projects helping the dairy industry go places.
In memory of Dr. Seuss, I encourage you to read something inspiring this month. It could be a 250-page leadership book or a 56-page children's book, either way it might motivate you to go places too.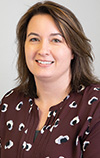 Karen Lee

Editor
Progressive Dairyman