It's been one year since the COVID-19 pandemic changed the way in which we live and work each day. Like many other moments in history, the "where were you when" will be forever engrained in my memory. I, and several hundred other people, was at the Western Canadian Dairy Seminar in Red Deer, Alberta.
It was the second week in March 2020, and event attendees arrived from many different locations. There were probably a few who chose not to make the trip, including one speaker from the United Kingdom who was under a newly imposed travel ban and had to present virtually – what a novel idea. As the week progressed, we went from reminders for regular handwashing, social distancing and the elbow bump replacement for handshakes to ending the event a day early as the Ministry of Health closed all events of that size.
There were so many unknowns at the time, and very few thought that a year later there would still be gathering restrictions in place.
This is the time of year I look forward to attending events, seeing everyone face to face and catching up on the chatter in the industry. I'm sure the same goes for many of you. I wish it could happen this spring, but that is not in the cards for us just yet.
In the spirit of embracing the next-best thing, I encourage all of you to try out the virtual realm for these events. No, it's not the same, but as I've attended several of them this past year, I've found them to be enjoyable for similar and different reasons when compared to in-person events.
First, never have I ever "attended" so many events in so many places as I have this year. I didn't have to account for travel time, as my computer and the magic of the internet took me to where I needed to be in seconds instead of hours.
Take this opportunity to discover new events you haven't been able to participate in before. Whether they were too far away or happened when it was inconvenient for you to get away from the farm, now is your chance to see what you've been missing.
Oftentimes, the virtual events are offered at a reduced registration rate, and without the expense of travel in fuel, flights, hotels, etc., they are a really affordable option.
Most virtual event platforms have trade show elements, so you can continue to see what various companies have to offer and ask questions of the sales representatives there. Don't forget to check out the Progressive Dairy virtual booth at the upcoming Western Canadian Dairy Seminar and Canadian Dairy XPO. Renewing your subscription is just as easy online as it is writing out the form at our physical booth.
Best of all, when the event ends for the day, you can still get your evening chores done, have dinner with your family and sleep in your own bed.
From seeing what's in store at upcoming events, I can tell that the planning committees are working just as hard to deliver a great event in this new format. They are holding to the aspects everyone loves and incorporating some new elements that can only happen in this digital space.
No, it's not going to be the same, nor is life as we once knew it. I encourage you to give these virtual events a try if you haven't already done so; you might like it for what it is.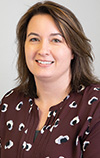 Karen Lee

Editor
Progressive Dairy