I recently purchased a set of face masks where the packaging read "one size fits most." That was apparent when myself and two children thought they fit pretty well, while my husband proclaimed it to be too small, and it was clearly too large for my 5-year-old. I guess they did fit "most" of my household.
I've also been keeping an eye on the great school debate happening this summer. Should kids go to school, stay home for virtual lessons or have an alternate schedule? It is evident in these discussions that one size doesn't even fit most. Each and every household has an opinion on what the district decision should be based on their needs, wants and desires for their children this fall. The district board and administration are working hard to find a plan to fit most and has acknowledged that no matter how many options it provides, there is no plan that fits all. There will be some teachers, staff, students, parents and community members that will feel the plan is not a fit for them.
There are no one-size-fits-all-or-most scenarios for dairy farms either. Each and every farm is different. Herd size is a differentiating factor, as is existing facilities and how much is in the chequebook or lending capacity. How the owners want to farm and work every day is another big element that sets each operation apart.
In this issue, we bring you articles on three different farms. Each one has made a decision that may not fit "most," but it sure does work for them.
The first article, Birkstead Holsteins sees fertility, health benefits with crossbreeding, features Thomas Wantenaar with Birkstead Holsteins in Elora, Ontario. Wantenaar and his father started crossbreeding with Jersey and Brown Swiss genetics. That didn't pan out as well as they would have liked, but it didn't hold him back from trying it again to resolve some fertility issues. This time, he found good results with Norwegian Red and Fleckvieh crosses.
The next farm featured, Kelderview Holsteins Ltd. near Salford, Ontario, made a switch to deep-bedded straw, lime and water mixture to combat klebsiella. The article Kelderview Holsteins sees dramatic reductions in mastitis cases, outlines other mastitis prevention strategies Bart Op den Kelder uses to maintain a healthy herd and somatic cell counts in the 80,000 to 120,000 range.
In the article Two types of traffic patterns work in Mountain Shadow Acres robot barn, we see an example where differing strategies can be used under a single roof. When retrofitting an existing freestall barn for automated milking, Tony Neels at Mountain Shadow Acres in Rosedale, British Columbia, chose to implement both milk-first guided flow and free-flow traffic patterns as it suited their management style, barn design and the way they split their herd.
These farms didn't settle for a one-size-fits-most solution. Instead, they kept looking for something that had just the right fit for them.
Finding the right solutions and making decisions can be difficult with all that is happening in the world around us right now. In the article Decision-making in weird economic times, Dustin Sawyer, lab director with Rock River Laboratory, offers up some guidelines to aid in the decision-making process, so you don't get trapped with tunnel vision that may end up affecting your farm in the long run.
Mandy Schmidt, North American dairy genetic services specialist with ABS Global, takes a specific look at breeding decisions being made right now (in the article Breeding for the post-COVID-19 cow) and echoes Sawyer's sentiments to look to the future when making decisions today.
Proponents of face masks agree proper fit is important. The same goes for dairy farming. Don't settle on a one-size-fits-most approach. Keep focused on the future to find what fits best for you.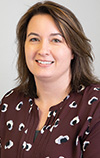 Karen Lee

Editor
Progressive Dairy