When people all over the world found themselves facing a deadly virus, stay home measures, supply-chain disruptions and economic crises, something else started to spread – signs of kindness and hope.
Soon after our schools closed in March, my daughter's teacher sent out a project. She found that children in Italy started drawing rainbows with the words, "Andrà tutto bene," which means, "Everything will be fine." It spread throughout Europe and then jumped to the United Kingdom, Canada and the U.S. The rainbow-window trend caught on in Quebec with the words, "Ça va bien aller." In other areas, people are putting hearts on windows and doors, and sometimes there are rainbows made of hearts.
Rainbows are the perfect symbol of hope. Rainbows appear after the storm has passed.
But, right now, we are in the storm. Much like the surprises Mother Nature can deliver, we have been caught up in the abrupt changes occurring in the world around us.
Storms can be damaging, just as COVID-19 has been. It has infected over 2 million people, and more than 100,000 have perished from the disease worldwide. To protect the population, businesses and public places have closed. This has hurt the economy and impacted our food supply chain in a way we haven't witnessed before. To watch marketable milk go down the drain or pour into a manure pit is a terrible sight.
On the other hand, storms can be helpful in breaking a streak of extremely hot weather or delivering rain for our crops to grow. We can dwell on the worst parts of this storm, but there are blessings here too. The world has paused. People are gaining back a lost appreciation for where and how they get their food. The climate is getting a break from our hurried ways and transportation methods. Families are coming together and finding ways to be creative.
This is a damaging storm, and we will be picking up the pieces for a long time to come. Anyone who has ever lost a building in a storm knows there are new opportunities in having to rebuild. I believe our industry will learn from this. Our food supply chain will come back stronger and more flexible. Our society will be thankful for those who have a part in keeping them fed. We will appreciate each other and be grateful for social interactions.
There will be a rainbow at the end of this storm. Everything will be fine. Ça va bien aller.
PHOTO: The front window in our house is filled with rainbow drawings by my children. Photo by Karen Lee.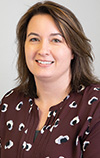 Karen Lee

Editor
Progressive Dairy