Once again, we bring you our state of the dairy industry issue – a time when we publish the annual dairy statistics poster and look at major news and trends in the industry.
Much like a reflection of the past year, the state of the industry seems rather quiet with minimal outward activity.
As we gathered and analyzed the statistics of the past year, things didn't change much. That was a bit surprising given the tumultuous start of 2020, but once the shift was made from going out to staying home, milk production and dairy consumption stabilized. That's a real testament to the resiliency of the industry, soundness of supply management and consumers' desire for wholesome, quality dairy products in their daily diet.
When it came to finding the big "news" to share, it was even quieter. There were no new trade deals to cover. (Yes, go ahead, give a sigh of relief.) Nor any other big policy issues to note.
As a mom, quiet makes me feel a little uneasy. It usually means those kids are up to something. When it gets quiet, I leave my office to check on them, and I never know what I might find. Some days they are skating in ranch dressing on the kitchen floor (yup, that was yesterday), but other times they have their heads together building an obstacle course for the kittens (learning the laws of physics).
The older I get, the more I enjoy when things are quiet. It usually allows for more things to happen, like tackling a rainy day list. Just look at how many home projects were accomplished this past year when people spent more time there.
It may seem quiet in the industry this year, but there is still work taking place. This issue features a couple of big strides being made.
On (see list below), there is an update on the feed supplementation working group that was formed earlier this year to investigate the consistency of butter and feed supplements for cows. The group has met formally four times, with individuals working through their assignments in between meetings as well. They are disclosing their findings with each other and compiling a report to share with the industry once they have completed their objectives. This will be a great tool for the dairy industry as we strive to enhance milk composition and transparency for consumers.
Another group that hasn't stopped working is the Dairy Processors Association of Canada (DPAC). They've been advocating for compensation for dairy processors, who were also impacted by the recent trade deals. Just as farmer groups pushed to see this come to fruition, the processors kept working on it and were able to see funding included in the 2021 federal budget. They are also working across the industry to establish a grocery code of conduct to create a more balanced and competitive grocery retail environment, which will aid in getting more dairy products to consumers. Read more about this from Mathieu Frigon, president and CEO of DPAC, 3 open minutes with Mathieu Frigon.
While things may seem stagnant when quiet, it is more often a time when we can grow stronger.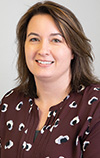 Karen Lee

Editor
Progressive Dairy