The older I get, the less comfortable I am to step out of my shell and try something new. A recent, unexpected experience proved to me that, as uncomfortable as it can be, I should continue to take some chances, as I will never know where they might lead.
In January, I had the opportunity to attend Managers Academy for Dairy Professionals in Orlando, Florida. The conference organizers assigned seats for all participants to better mingle with others in the industry.
I sat at my table, and all seven of us politely greeted one another. Throughout the first day, we were occasionally asked to discuss and agree on key points we were picking up from the training. This forced conversation seemed quite harmless. Some in the group spoke more than others, which gave the introverts a pass for the day.
Our bigger group challenge came in the afternoon on the second day. We were taken to one of the four Walt Disney World theme parks and asked to work as a group to complete a homework assignment of interviewing cast members about the corporate culture and their work experiences. The organizers explained that, once our group homework was done, we could disband and enjoy the rest of the day on our own.
When my group of four dairy producers and three industry representatives arrived at Disney's Animal Kingdom we were, for the most part, still strangers.
After interviewing one cast member, a member of our group suggested we all ride one of the attractions together. Everyone seemed to willingly agree, and we decided to figure out how to use our FastPass+ to see if it would help us get on one of the park's newest rides.
To utilize the pass, we had to lock in a specific time to ride the attraction. Unfortunately, the ride we wanted wasn't available, but there was one opening on a less popular ride right away, so we signed up for that.
Then the cast member assisting us found an opening for us to ride a roller coaster; however, it wasn't for another few hours. This meant each member of the group would commit to remain together for longer than what each of us may have originally anticipated.
There was definitely some hesitation, as no one readily agreed. However, we all eventually said "yes," and it ended up being a pivotal moment in the entire experience.
Instead of spending a single hour together to complete the homework, we were together for the rest of the afternoon and evening. We enjoyed more of the park and, along the way, we learned a lot more about each other, our various experiences in the dairy industry and management climates.
This only happened because each of us took an uncomfortable chance. It was an experience I know I will remember for a very long time.
I share this with you now as I know many of you will be stepping off your farms, where you are most comfortable, and attending various workshops and conferences this spring.
You will likely meet up with friends and neighbours and others you know from past events and pick up conversations where you left off. While that is certainly good, I encourage you to sit by someone you don't know very well.
Take a chance and strike up a conversation. You never know where it might lead and what you might learn that you can take back home with you. Use that networking time to not only strengthen your existing network but to help it grow beyond your current comfort level.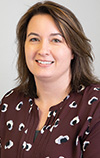 Karen Lee

Editor
Progressive Dairyman