This summer, my oldest daughter had her first experience in the dairy show ring. It was something she wanted to do for years, and she was finally old enough to compete at the local fair.
Having exhibited dairy through 4-H myself, I understood the enormity of this project. My daughter, on the other hand, had no idea.
We borrowed a March calf from my parents' farm and moved it to our place. With the new arrival, she was eager to go out and feed it each day but, as the initial excitement waned, the reminders from her parents increased.
We attended a showing and fitting clinic for her to learn more about what to do. I thought it was amazing, and the instructor gave excellent tips for showing enthusiasts of any age.
Sadly, my novice student didn't understand what most of it meant or how it would be applied. Having not yet been to the end, it was hard to grasp what tips and tools were needed for the journey.
Then there was the process of breaking the calf to lead. And what a process. They established a bond, and pretty soon it was less of a circus trying to get the halter on.
The calf started walking well, but it didn't take long before it picked up on my daughter's timidness. As she tried to lead, and it failed to listen, they both quickly tired of the exercise.
Again, not fully knowing why long walks lead to better behaviour on show day, it was hard to get her to commit to more.
Two nights before the show, when everyone was more spent than excited and the calf still wasn't leading well, my daughter said, "I think once she is in the ring, she will know what to do."
I smiled and thought about my past experiences with calves that could have used more training before entering the show ring. I knew that wasn't going to be the case, but I didn't want to shatter the hopefulness of such an innocent thought.
Instead of thinking this calf still had time to learn what to do, I decided the time had come for the pre-game pep talk with my daughter.
I let her know that more important than the calf's behaviour will be how she responds, and that at the end of the day she will know what she's made of.
Show day started with beginner showmanship. The calf, as expected, gave her a run for her money. They walked in a lot of circles every time it acted up and she needed to pull it back in line.
They ended up standing second to last, but the judge commented on how impressed he was at my daughter's grit and determination.
I was proud too and was sure to let her know. However, she was still frustrated and hesitant to return to the ring for the calf's class later in the day. She did anyway and came away with a blue ribbon, which put a smile on her face.
As the stress of the day faded, she was able to reflect on all that occurred. I think she ended up being pretty proud of herself too, but she did tell me next year she'll be sure to work more with the calf before the show.
Like every first experience, you never really know what to expect until you try it. Some days you just have to go out there, hold on with all of your might, smile and hope for a good ending.
I find this happens a lot while farming. Hang in there and hopefully whatever experience you're working through now will prepare you a little more for the next time around.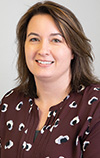 Karen Lee

Editor
Progressive Dairyman