I recently attended the Progressive Dairy Operators Triennial Symposium in Toronto, Ontario. It occurred during a busy week for the Canadian dairy industry with the Western Canadian Dairy Seminar in Red Deer, Alberta; London Farm Show in London, Ontario; and Atlantic Farm Mechanization Show in Moncton, New Brunswick; all coinciding within five days.
Our Progressive Dairyman team took a "divide and conquer" approach and I drew the straw to be in Toronto. With a never-ending thirst for knowledge, I enjoy these events where a lot can be learned from a series of speakers.
Each one comes prepared with a specific topic and well-structured presentation. I will be sure to share some of those presentation summaries with you in coming issues, but today I want to focus on something else I enjoy from these events – gathering individual nuggets of information.
Within each presentation and sometimes in the hallways or at the dinner table, there are always bits of knowledge shared that spur an idea to look into at a later time. Here are a few of the ones I collected:
Will we run out of sand? Tom Wright, dairy cattle specialist at the Ontario Ministry of Agriculture, Food and Rural Affairs (OMAFRA) said he heard from his colleague Anita Heeg that the world's supply of sand is disappearing. "It sounds ridiculous, but it's a real thing," he said. Sand is a popular freestall bedding and therefore important to the dairy industry, but it is also a valuable source for the building industry and is being used to construct large buildings around the globe.


Could extending lactations with fewer calvings lead to less antibiotic use and improve the environment? Tine van Werven from Utrecht University asked, "What if we only have two calves in three years?"


She added, "We don't need all of the calves, and we know the most vulnerable time for cows is just after parturition. If you only have two of those periods in three years, instead of three, it makes life a little bit easier, for you and especially for the cow."


Can farmers become desensitized to pain like veteran health professionals? In his quest to find his own lost compassion, veteran emergency room physician and author of The Power of Kindness, Dr. Brian Goldman was administered a functional MRI and learned he had an underactive empathy centre.
"It turns out I'm not the only one," Goldman said. "Veteran health professionals, nurses, doctors and others, tend to have a less intense activity in our empathy centres and the reason why is that we seem to consistently under-empathize the pain of our patients."
This is a newer finding and there is research being done to figure out what is causing this subset of health professionals to score pain lower than people not trained as a physician.
I can't help but wonder if the same is true in the care of livestock, where experienced farmers and veterinarians who work with cattle every day perhaps suffer the same fate.
Another great part of dairy conferences is the fact they bring people together. It will take collaboration in order to tackle these nuggets of information and see what they mean for the industry in the future.
Wright shared a favourite quote from John M. Richardson: "When it comes to the future, there are three kinds of people: those who let it happen, those who make it happen, and those who wonder what happened."
"I am pleased to be in a room with people who make things happen," Wright said.
I couldn't agree more and I am curious to see what becomes of these thoughts and ideas shared at this event in the years to come.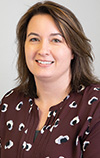 Karen Lee

Editor
Progressive Dairyman