This is the start of our 10th year providing a Canada-specific edition of Progressive Dairy. The traditional anniversary gift list suggests we mark the occasion with tin or aluminum, as both materials represent the durability and flexibility needed to sustain a union.
I hope that in the last decade you've found us to be durable – arriving in your mailbox or inbox once a month. I have always wanted this publication to be a resource for the information you seek or that which you didn't know you needed to know.
As I look back on how we've grown in 10 years, there's been some flexibility as well. We've increased our frequency from six to nine to 12 times a year. We offer a Canada-exclusive website as a library of articles we've published since we started. We deliver a monthly enewsletter for those who wish to get a sneak peek at upcoming articles and digest our content in another format.
In the past 10 years, our look has changed slightly, and even our name is different from when we first began.
To honour the symbols of durability and flexibility that mark this occasion, this issue contains a few articles related to tin and aluminum.
Read about the unexpected event that pushed the Peterson family of Agassiz, British Columbia, into putting up a lot of new "tin" this year Rising from the ashes: Petersons rebuild after losing freestall barn and parlour. As one of the BC Dairy Expo farm tour hosts, they are aiming to have their cows settled in before the event later this month. See a list of all of the farm stops, as well as the BC Dairy Expo seminar speakers and sessions, BC Dairy Expo seminar and tours happening later this month.
For anyone thinking of planning a farm modernization project in the near future, check out a few tips from Christina Winch, 5 tips for beginning a modernization project on your dairy. She recently put robots on her farm and has some suggestions on how to initiate your plans.
Maybe you'd rather rent "tin." If that's the case, check out several factors to consider when renting facilities in the article Renting facilities? consider these factors first. It may help you strike a better deal with the landlord or tenant, depending on your situation.
If you prefer aluminum, go to Grootendorst farms to serve as test site for milk tower. A brand-new vertical milk tower encased in aluminum is being placed on Grootendorst Farms in Ontario. Learn why this product is being tested and what it could mean for milk quality in the future.
Forage is back again
One additional area we've flexed in these 10 years is how we deliver articles related to forage. We started by including it in these pages on a regular basis; then we thought you may want to see our entire U.S.-based Progressive Forage publication. When we saw how many of you were getting both, we thought we'd make life easier by consolidating the information for you.
We are back to selecting the most Canadian-relevant forage content and putting it into this single publication for you to enjoy along with the dairy content. In the back of every issue, you'll find a few forage articles.
This month we're delivering 10 ways to get more milk from homegrown forages, and how to successfully harvest, ferment and feed BMR sorghum, a crop with growing interest in northern regions.
Thank you to our avid readers who have been with us since the start. To all of you who have joined us along the way, I'm glad you found us. Here's to our first decade and the next!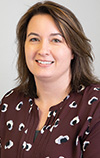 Karen Lee

Editor
Progressive Dairy