After several months of consideration, my husband and I decided to build a tobacco shed on our property. For four years, we rented sheds in the area and felt it would be more efficient and higher-yielding if we could keep the crop at our farm.
We headed to the bank in February with our plan, and then we waited.
Meanwhile, spring rains began to dampen our fields, but we still had faith our 6-acre plot was positioned on one of the highest spots of our low-lying ground and would remain dry enough. Our plants arrived in early June. The rains held off just enough for us to work the ground and plant the crop.
The rains continued to come and, as July rolled around, parts of the field were flooded, and what remained didn't look too good, but our luck was about to turn.
The bank called and the shed loan made it through the final approval process. Harvest was less than two months away and without lining up another shed for the season, we needed a place to store the remaining 5 acres left in the field.
God knew we needed all the help we could get, so the battering of rain showers ceased, and we had excellent weather for building. It turns out it was excellent weather for growing crops too because the plants we had all but written off the end of June suddenly sprang into action.
In just 44 days, we went from having a corner of a cornfield to a 36-foot-by-140-foot tobacco shed, four layers high. This project was the undertaking of my husband's two-man construction company.
He had hired a couple of high school students who worked on it as well. Luckily, we had several family members and friends who also offered to help when they could, some even taking time off from their regular jobs.
Not by chance, the construction wrapped up the day before the harvest crew planned to arrive. Just as the building grew, so did the excitement, and now it was time to see how all of our efforts would pay off and if our new shed will fulfill our dreams.
Sadly, in a matter of hours, that anticipation came to a halt. There was too much "rust" found on our plants due to the moist growing season. Our contracted buyer condemned the crop in the field, so there was no point in harvesting or filling the shed.
It was tough news to take and to see our empty shed standing there can certainly be disheartening. Yet, I can't help but be thankful when I look at our shed. Thankful for the many helping hands that came when called to help us in a time of need.
Every day, every hour, every minute someone offered to the project helped us tremendously. Once again, it makes me appreciate living in the culture of agriculture where neighbours help neighbours.
Typically, one of the reasons to be thankful on Thanksgiving is for a bountiful harvest. While that isn't the case for us, I will still be thankful this holiday. Thankful for helping hands and the opportunity to be part of an industry that cares.
Whether or not you have a bountiful harvest this year, be thankful for family, friends and neighbours with helping hands.
PHOTO: Photo by Karen Lee.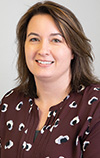 Karen Lee

Editor
Progressive Dairyman