Some people spend their summers at the beach or on a lake. With second or third crop in by now, you're probably thinking you've spent some significant time in a hayfield.
So far, I've spent my summer at the ballpark. With my three daughters playing on four different softball teams this season, there were very few evenings when I could be found anywhere else. Throughout the season, I witnessed several different coaching styles.
Some coaches were focused on developing individual players and basic ball skills. These coaches held regular practices, watched each player and pointed out what they were doing well and where they could improve.
Other coaches thought about teamwork. They considered each player's strengths and weaknesses, who paired well together and how to field the team given each player's abilities compared to the others. They also kept up morale and encouraged the girls to cheer for one another.
Some coaches were all about getting the win. They had little room for error. There wasn't a lot of player development, with more emphasis in hoping the most talented players were in the best spots. While not my favourite coaching style, it is necessary if the team wanted a shot at extending their season into the playoffs.
Others thought about the program, not necessarily what can be done in the moment but how to build these players and teams to be competitive in the future. When a win was clearly achieved, these coaches would rest the best players and give others an opportunity on the field. While those players may not have been big contributors this year, any extra field time is important for them to grow and to build stronger teams in the future.
Each of these coaching styles requires a different way of thinking, yet a good coach or a farmowner/business manager will be thinking about all of them at the same time.
In this issue, we offer content that can help you manage these different aspects of your farm business. The articles on calf and heifer raising will help you develop your future "players" so they perform well in the milking string one day. When winning is the only option, check out the article by Cheryl DeCooman on manure storage safety (Manure pit safety: Know the dangers and implement risk prevention strategies). That is definitely a spot where there is no room for error, so make sure everyone on your farm is doing all they can to be safe in and around manure storage as it is emptied this fall.
Lastly, our state of the industry section focuses on the program or the bigger picture. With an industry goal to reach net-zero greenhouse gas emissions (GHG) from dairy farms by 2050, sustainability is something to keep in mind. These articles aren't meant to give you a win today, but to get you thinking long-term. What can you start doing today to have a lasting effect on your farm, the industry and the environment 25 years from now?
I know firsthand that both coaching and farming are difficult. With all these things to consider, you may not always make the right call, and there's probably someone who will disagree with whatever you're trying to do. So I'll leave you with the same advice I tell my kids before each game – just do your best and have fun.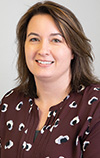 Karen Lee

Managing Editor
Progressive Dairy