A little while ago, I walked into the grocery store, pleasantly greeted by buckets and buckets of fresh tulips. Living in Calgary, I never know if the spring months will be marked by blizzards or breezy, mild, sunny days.
For example, as I write this, before my week is over, both a day of sun with a high of 21ºC and a day of snow are forecast. Consequently, the temperature fluctuations this time of year have left me with few memories of spring. Even the reliable markers of Easter are harder to pinpoint, as Easter candy now appears on shelves before Valentine's Day has passed. For me, tulips in the supermarket are a tangible indicator that spring is here, which means summer is not far behind.
The month of May serves as the prelude to summer and, if you are in the agriculture industry, signals the busy season is ramping up. For the first time in two years, your summer may be busy not only with farm work, but also with the reopening of the country and the renewed possibility of travel.
If you are a homebody like me, the prospect of filling your calendar with social activities can leave knots in your stomach, especially when you are out of the habit of it. However, pausing and taking the time to nurture your social circles and friendships is crucial.
I recently listened to a podcast featuring National Geographic fellow and author Dan Buettner. Buettner is known for leading the expedition that resulted in the discovery of the five blue zones. Blue zones are the regions of the world thought to have a consistently higher average number of people who live to be over 100 years old. The zones, located in Italy, Greece, Costa Rica, Japan and California, are geographically distant; however, the inhabitants of these regions share nine identifiable lifestyle commonalities.
For instance, a sense of purpose is one commonality. This is the reason why you get up in the morning. Maybe your farm has a purpose or a mission statement; at Progressive Dairy, our "why" is "building trusting relationships, so that all can grow." However, you may find identifying a purpose that motivates you personally helps you power through each day.
Three other commonalities of blue zones involve building and maintaining communities. Blue zone inhabitants belong to faith-based communities, put their families first and commit to a life partner. They also participate in social circles that support healthy behaviours.
Routine stress-relieving activities form another commonality. For some communities, this involves praying – and in others, it takes shape in the form of a daily happy hour. Proponents of the blue zone concept conclude this "downshift" helps reduce stress, thereby reducing the chronic inflammation associated with every major age-related disease.
As you buckle down for another busy summer season, consider the longevity of blue zone communities and remember your purpose, prioritize de-stressing, and connect with your community. Maybe one day you will wake up to find you yourself have lived to be a centenarian.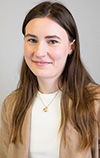 Emma Ohirko

Editor
Progressive Dairy