As the world reacted to the coronavirus pandemic, it didn't take long to find out which jobs are deemed essential and which ones we can live without, at least temporarily. It's not surprising that our essential workers are the same group of people who don't shutter their businesses on a holiday.
We need people doing these jobs all day, every day, no matter the circumstance.
Over the past few months, I have seen a lot of people thanking healthcare workers, first responders, truckers and grocery store workers for being on the front line. I wholeheartedly agree these are great professions and worthy of our thanks. There are many people who continue to work while putting themselves and their families at risk so everyone can continue to have their basic needs met.
Unfortunately, it took drastic situations of dumped milk and illnesses at processing and packaging plants for people to notice how much farmers and food processors need to be acknowledged as well.
We all know agriculture is a difficult business. From battling Mother Nature to the economy, there is a lot about farming that is not in your control. This pandemic is also out of your control. One of the habits Lisa McCrea-Hemphill cites of effective dairy farmers (5 habits of highly effective dairy farmers) is to be proactive. This is a state of mind where you let go of the things you can't control and instead focus on the things you can influence.
Elaine Froese also offers some great tips on how to frame your thoughts during this difficult time (One day at a time: Tips for the 'Great Pause'). She will help you channel your inner strength so you can continue to lead your family and farm through a situation we haven't faced before.
Even as you continue to do your essential work every day, good deeds don't always feed good if they aren't appreciated.
That's why I wanted to take a moment on the cover of this issue to let you know how much my family and I appreciate you. With everyone home all the time, the number of dairy products we go through each day, week and month is quite astonishing. Your hard work provides healthy snacks for my kids; it gives us tasty ingredients for our meals and a nutritious beverage to drink with them. Dairy products have been a staple element in my house through this quarantine.
Due to the perishable nature of these products, it's hard to keep enough in stock, so you've also given me a reason to get off the property every once in a while – even if the only thing I go out to do is buy more milk.
World Milk Day and June Dairy Month could not have come at a better time. To continue to keep our spirits up, we need reasons to celebrate. It is time for us to celebrate all things dairy, and that includes our hard-working dairy farmers. It is a time for you to get the recognition you so deserve.
Know that you are essential and, better yet, know that you are appreciated. Throughout this challenging time, my family and I are thinking of you and thanking you.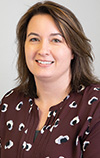 Karen Lee

Editor
Progressive Dairy