More than 175 dairy producers and service providers spent time learning about hoof health and lameness prevention on two Manitoba dairies on March 20 and 21.
Hoof trimmer and owner of Rippleview Hoof Care Jamie Sullivan helped to organize the on-farm animal care workshops with the theme "Improving cow comfort, animal welfare and profitability from the foot up." The workshops were hosted by Rosser Holsteins Ltd. and LaBass Holsteins Ltd., with the intention of addressing the major disease that affects dairy cattle hoof health and ultimately leads to lameness.
"Like everywhere else in the world, digital dermatitis [DD] is the number one cause of lameness with most of my clients, and white-line disease and sole ulcers are the next two main causes of lameness," Sullivan says. "With almost half of the lameness cases attributed to DD, this disease needs to be controlled and prevented on the farm daily."
Two of the four stations were designated to understanding the dynamics of the disease, how to best treat it and, most importantly, how to prevent it in the first place. The next two stations taught how to recognize lameness and the importance of early detection, treatment and prevention. The workshop also showed what to look for depending on the type of lesions causing the lameness. The four stations showed how everything is interrelated for both treatment and prevention.
The impressive speaker lineup included Dr. Dorte Dopfer, who discussed her extensive research involving digital dermatitis and explained how to recognize the stages of the disease, along with how to evaluate treatments and protocols. Producers learned about DD prevention through properly managed footbaths from Jerry McDowell from Zinpro. Sullivan emphasized the message that "zero lameness" is attainable, and explained how a hoof trimming program can help dairy producers achieve that goal. Rounding out the presenters was Clemence Nash from Novus, who covered locomotion scoring and early lameness detection.
Dairy Farmers of Manitoba (DFM) sponsored the two days with some funding from the Westgen Endowment Fund. The details of the workshop were organized by Bruce Grewer, DFM; Sullivan; and Steve Roche, Acer Consulting.
The event's organizers sought to put on workshops that would give dairy farmers practical information they could go home and apply on their dairies. "My goal with the workshop was to have a real hands-on approach to improving lameness on-farm. By being on-farm, the producers could see how to apply the information each presenter was presenting," Sullivan says. "Also, it gave an opportunity for producers to interact with each other and discuss what has worked or not on their own farm. We all like being on a farm rather than just a classroom or meeting room setting. It gave the opportunity to talk more about prevention than just treating lameness."
Sullivan says he hopes that dairy farmers went away from the workshops with three key messages in mind:
Zero lameness is possible. That means there are more days in a year with cows that show no lameness than there are days with cows showing a lame event.
Prevention is key to farm profitability and animal welfare.
You need to have hoof health records, action plans and a team approach that includes the farm staff, vet, trimmer and nutritionist for best results.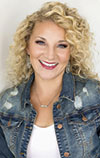 Peggy Coffeen

Editor
Progressive Dairyman
PHOTO 1: Dairy producers learned about locomotion scoring with Clemence Nash from Novus.
PHOTO 2: Dr. Dorte Dopfer covered her extensive research on digital dermatitis. Photos provided by Jamie Sullivan.
Before commenting on our articles, please note our Terms for Commenting.