As the nation's premier outdoor agricultural showcase, Canada's Outdoor Farm Show offers "one-stop shopping" for farmers and highlights the most innovative and technologically advanced agricultural products and services available.
It will be held September 13, 14 and 15 from 8:30 a.m. to 5 p.m. at Canada's Outdoor Park in Woodstock, Ontario. Thousands of farmers, industry representatives and exhibitors will be in attendance.
Three popular features for dairy producers include the BriteSpan Dairy Innovation Centre, Grober Young Animal Development Centre and live field demonstrations. Read below to see what will be featured in each area this year.
For more information about the show, visit www.OutdoorFarmShow.com PD
Elizabeth J. (Betsy) Healey
Marketing Communications Coordinator
DeLaval Inc. – Canadas
What are the featured displays for this year?
DeLaval understands that the challenge faced by dairy farmers around the world is how to meet an economic future that is already now being defined by scale and, most importantly, efficiency.
To respond to this challenge, again this year DeLaval demonstrates live milking with the VMS (Voluntary Milking System) Robot in the BriteSpan Dairy Innovation Centre in conjunction with associated DeLaval peripheral automated solutions essential for the efficiency of your robotic dairy farm operation.
New for 2011, located just in front of the centre, DeLaval will be showcasing its Smart Farming range of products and various advanced herd management systems that are currently present in the Canadian market or planned to be released in the near future.
What do you hope attendees will take away from their visit?
Visitors are invited to learn about Smart Farming and to discover the wide range of unique innovative solutions gearing up to create an on-farm integrated productivity and profit driving system that embraces more than milking.
All solutions are designed to create a more productive, sustainable and profitable future for Canadian dairy farmers and for farmers around the world.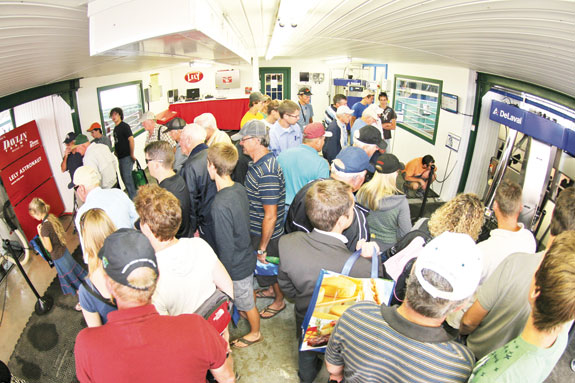 Jerry Claessens
General Manager
Lely Canada
What are the featured displays for this year?
Lely Canada Inc. will again, as in the previous years, have a live milking demonstration. The live milking will feature the new Astronaut A4 milking robot this year.
It will be the first time this model will be shown at Woodstock. The A4 features I-flow cow movement for the quickest entrance and exit of the cow to the robot.
The A4 also features new milk pump technology for gentle milk handling. The A4 has a new sleek look. Lely will also feature the latest Discovery model, the SW, with a water tank on board to pre-condition the slats for more thorough cleaning.
What do you hope attendees will take away from their visit?
As in other years, seeing the live milking demonstration allows the attendees to see this wonderful technology working as it does on the farm and visit with our sales and marketing staff to have any and all questions answered.
Heather Copland
Marketing and Communications Manager
Grober Nutrition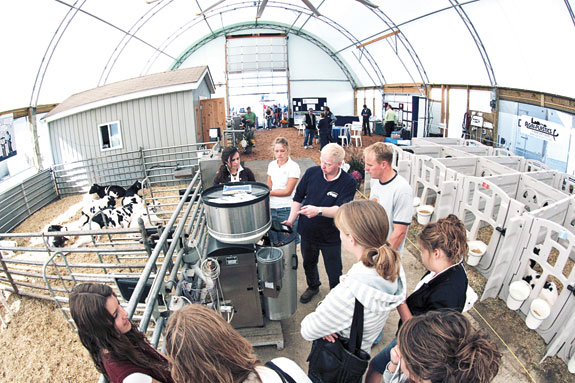 What are the featured displays for this year?
At the Grober Young Animal Development Centre, we are featuring new technologies and new equipment alongside our "research in motion" (nutrition trials) applying to calf and kid goat nutrition.
At this year's show we will have ongoing demonstrations of the new Vario Plus automatic calf feeder from Forster-Technik, the Grober MILK MOBILE and the world premiere of the new ECO automatic lamb/kid feeder.
The Vario Plus, debuted at the 2010 Eurotier, is enhanced with automatic calibration and one-touch calf information.
The MILK MOBILE is a rugged mixing and delivery system for milk replacer. The ECO feeders feature a new design and easier calibration.
Producers will have an opportunity to see and try all of these at the show. We will also have interactive displays through computer kiosks focusing on calf raising and nutrition.
What do you hope attendees will take away from their visit?
In the three years we've opened up the Grober Young Animal Development Centre for the Outdoor Farm Show, we've shared with attendees the opportunities around young animal raising.
Calves, lambs, kids – any young livestock – are the foundation of a profitable and productive farm. Through advances in nutrition, husbandry, feeding technologies and housing, we are showing firsthand where we've applied our research while demonstrating results visible to people that come through our barn.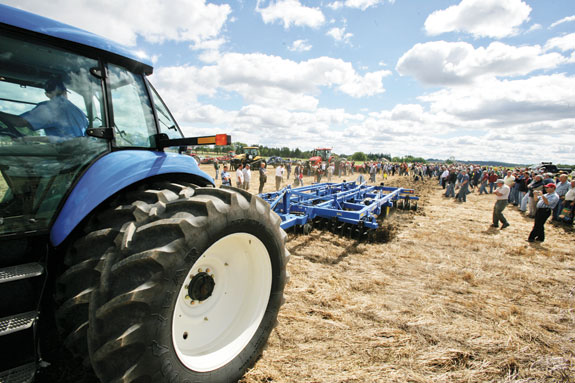 Paul Roper
Exhibit Sales and Demo Coordinator
Canada's Outdoor Farm Show
What are the featured displays for this year?
Every year we try to feature at least one major field demonstration, and this year we are tackling corn stalk tillage.
With today's tougher corn hybrids, breaking down corn stover effectively can be an issue. Every day during the show, farmers can come to the Southwest Demo Field and see 18 companies showcase their tillage equipment in action.
The demonstration will start at 12:30 p.m. each day, and attendees can take one of our shuttles to the field.
There are also many other equipment and livestock demonstrations on site, which range from sprayers to forestry equipment, robotic milking systems and automatic calf feeders.
What do you hope attendees will take away from their visit?
Our team hopes that farmers leave Canada's Outdoor Farm Show with the ability to improve their operations.
This may come in the form of new equipment they bought at the show or new knowledge about leading-edge products and services available on the market.
Together with our 700 exhibitors, the goal is to present the latest and best products in modern agriculture for farmers to experience.
Whether they arrive with a to-do list or find something unexpected, we hope attendees take away some new ideas, purchases and relationships from Canada's Outdoor Farm Show.
PHOTOS
Photos courtesy of Canada's Outdoor Farm Show.