The sun was shining on March 17 when Stacy, Val, Murrel and Wilma Frey welcomed more than 1,200 people to their new dairy facility in Waterloo, Ontario.
The in-person event was a treat for those in Ontario (and visitors from Manitoba and Holland), where COVID-19 restrictions impeded events such as this for the last couple of years.
The new facility was constructed following a barn fire in July 2020 where Adieu Farms lost 29 calves and a few cows. The Frey family broke ground that December, working closely with Conestogo Agri Systems Inc. and other local suppliers.
Not only did they build for their 55-head herd of Holsteins, but they planned for future growth of 100 head with a double-eight GEA Global 90i parallel parlour and feed room with five Harvestore silos and a Rissler 350-cubic-foot Spiro Mixer.
The family would like to thank everyone involved, especially their friends, Denis Martin and Trevor Martin, who housed their milking herd and calves during construction. Look for an article featuring the farm in the next issue of Progressive Dairy – Canada.
PHOTO 1: The main building is 140 feet by 356 feet. The west side of the barn houses the milking herd, and on the other side are the calves, heifers, close-up cows, and dry and transition cows. They added storage on top of the heifer pens for straw bales, making it easier to distribute bedding below.
PHOTO 2: Murrel, Wilma, Stacy and Val Frey operate Adieu Farms in Waterloo, Ontario.
PHOTO 3: Hundreds of vehicles lined the roads outside of Adieu Farms for its open house in March. Adieu Farms is one of the first open houses in the area since COVID-19 restrictions lifted in Ontario. Photo courtesy of Waddell Engineering Ltd.
PHOTO 4: As part of the open house, local caterers served a hot meal to visitors along with snacks and beverages.
PHOTO 5: The feed room houses four 20-by-90 forage units, one 20-by-80 high-moisture corn unit, two XL 200 unloaders, a 350-cubic-foot Spiro Mixer, feed room conveyors and an 8-tonne, 450-cubic-foot feed bin. Working closely with their barn design team and visiting other farms, the Frey family built this room with the capabilities to be fully robotic in the future. Photos by Lora Bender.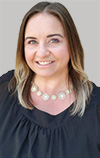 Lora Bender

Editor
Progressive Dairy