Eating a big turkey dinner, served with pie and all the fixings, alongside family members and loved ones tends to go hand in hand with Christmas. John Miller says his family's Christmas traditions are no different.
"Dairy farm families have to milk the cows and do all the chores before our celebration, and after our celebration we have to go do it again," Miller says, noting his own family abides by this. While Miller insists his family celebrates like any typical Canadian dairy farm family would, he says they also partake in the less common tradition of serving ice cream for Christmas dessert. The story behind the family tradition dates back a few generations.
Miller lives and works on Jalon Farms, a fifth-generation family farm in Creemore, Ontario. His maternal relatives manufactured ice cream in Goderich, Ontario. When Miller and his wife, Marie, started Miller's Dairy, a wholesale processing extension of their farm business in 2012, they knew they would soon be adding ice cream to their list of products. "I had always had the ambition of going back to something like [my family's ice cream business]," Miller says.
The ice cream they produce and distribute to stores through their brand Miller's Dairy is produced using his grandfather's ice cream machine. Miller says the machine was sitting in his grandfather's former plant for 50 years before they restored it. "When it came time for us to make ice cream, I thought, 'You know what would be cool is if I could get that ice cream machine.'"
"We sent it to Louisiana and had it all completely refurbished," he adds. The machine weighs close to 1,500 pounds, which is why it had never been moved out of the plant despite changing ownership. "It weighed too much, so they couldn't haul it out and take it to the dump, so lucky for us [we got to take it]," Miller explains with a chuckle.
To celebrate the festive season, Miller's Dairy uses their restored machine to make and sell eggnog ice cream, using the same flavour profile as the eggnog they also produce. Miller says he is very proud of the eggnog he and Marie created four years ago. Neither he or Marie liked eggnog, but they decided to source ingredients and work in their kitchen to perfect a custom recipe, which was modified from one they received from a supplier.
Now Miller says he enjoys their eggnog and is pleased with all the positive feedback they have received from customers. "I joke that our eggnog is the choice eggnog of people who don't like eggnog," Miller says. "During eggnog season, I put it in my coffee all the time as a creamer because it tastes so good – it's delicious." He says the eggnog is "American style" with a high fat percentage.
Miller says other unique features add to the marketability of their eggnog, like the seasonal, reusable glass bottle it comes in as well as the fact that all their products are made using the milk from Jalon Farms Jersey cows. However, Miller says the taste and quality of the eggnog and their other products is ultimately what leads to their success. "Whatever's in the bottle is what actually sells the second bottle," he says.
The Millers were inspired to start their wholesale venture after building a new dairy facility in 2004. "We got this new facility built and quota values hit $30,000 a kilogram, and I thought that was unsustainable," Miller says. He says they were and continue to be inspired to build on current business successes to help their farm continue to succeed for many generations. When asked if they have considered opening a farm store, Miller jokes, "That's grounds for divorce."
"Our goal was to create a local product that would enhance our local businesses, not compete with them. … We certainly have achieved that," Miller says.
The Christmas season brings its own unique challenges for the processing part of their business. Miller explains they begin producing eggnog on Sept. 30 to have it in stores by Thanksgiving, stopping production right before Christmas, which he says brings the biggest difficulty. "On the dairy side of it, the challenge for us is figuring out, depending where Christmas and Boxing Day fall, how we deliver the products to stores in the lead up to Christmas and how to work the week's work into two days," Miller notes. But he says fulfilling the needs of their customers keeps them motivated to push through. "It's like everything; you do what you have to do," he explains.
Today, Miller's stepson, Shawn Corbeil, is part of the fifth generation to work on the family farm. Corbeil manages the processing at Miller's Dairy, with the help of his wife, Ashton. Miller says the Corbeils' 2-year-old daughter brings a new and fun perspective to Christmas day. Despite partaking in Christmas festivities and selling eggnog, Miller proclaims himself "a bit of a bah humbug," but he says having a little person around changes the Christmas season for the better.
PHOTO 1: John Miller and his wife, Marie, strive to create a multigenerational farm business. Pictured is the Miller family along with Jalon Farms and Miller's Dairy employees on a Christmas float.
PHOTO 2: Miller's Dairy uses their vintage, restored ice cream machine to make their eggnog ice cream every Christmas season. It uses the same flavour profile as their "American-style" eggnog.Photos provided by Marie Miller.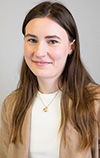 Emma Ohirko

Editor
Progressive Dairy