Exactly one year after the Dairy Farmers of Ontario implemented a new ingredient strategy, starting a new class for the various products that can be made from skim milk solids and pricing it competitively, a loud shot rang out in a new battle within the trade war between Canada and the U.S.
On April 1, Grassland Dairy Products Inc., one of the largest cream manufacturers in the U.S., sent letters to about 75 dairy farmer patrons in Minnesota and Wisconsin notifying them the company would no longer be able to accept their milk, effective May 1.
The letter pointed to a change in Canadian dairy pricing policy as the reason for cutting back on milk procurement. The adoption of an ingredient strategy nationwide in Canada changed the scope of the market for ultrafiltered (UF) milk, one of Grassland's major products.
"We were exporting UF milk to Canadian cheese plants," Goedhart Westers, Grassland's vice president of business development, said to Progressive Dairyman Editor Dave Natzke in an interview.
Westers continued, "Canada's policy has targeted that trade flow, making it no longer competitive. It is priced at such a level that makes our trade flow cost prohibitive."
Within a few days, U.S. dairy organizations were asking the Trump administration to fight back. A press release from the National Milk Producers Federation (NMPF), the U.S. Dairy Export Council (USDEC) and the International Dairy Foods Association (IDFA) said the groups were calling on the federal government, and on governors in northern states, "to take immediate action in response to Canada's violation of its trade commitments to the United States."
Isabelle Bouchard with Dairy Farmers of Canada posted an article online in an attempt to clarify that the ingredient strategy is a domestic policy, stating, "There have been no changes to Canadian regulations related to dairy imports, or changes to Canadian dairy tariffs."
The strategy does not restrict American access to the Canadian market, Bouchard clarified, noting, "Canadian businesses are still free to choose their own suppliers, just like American companies do."
However, as U.S. President Donald Trump made a visit to Wisconsin on April 18 for another matter, he commented on the dairy issue, calling the policy changes in Canada "unfair," and vowed to "stand up for [U.S.] dairy farmers."
Trump also indicated the dairy situation is part of a larger problem related to the North American Free Trade Agreement (NAFTA). "We are going to make some very big changes or we are going to get rid of NAFTA once and for all," he said.
In response, Prime Minister Justin Trudeau told Bloomberg, "The U.S. has a $400 million dairy surplus with Canada so it's not Canada that's the challenge here."
Trudeau vowed, "to engage in a thoughtful, fact-based conversation on how to move forward in a way that both protects our consumers and our agricultural producers."
In doing so, phone calls amongst the leaders of the three countries led to an agreement not to terminate NAFTA at this time, but instead to work on renegotiating the trade deal.
While UF milk has never been part of NAFTA, it seems to be responsible for this latest battle in the ongoing trade war. Whether Canada's ingredient strategy will be challenged under the World Trade Organization is yet to be seen, but The Globe and Mail reported Australia and New Zealand dairy industry leaders indicated they would support the U.S. if a complaint was to be filed.
Meanwhile, by May 1, all but a couple of the Wisconsin farms that lost their milk buyer in April were able to secure a new home for their milk. That is good news for those farm families, but it does not solve the problem Canadian Ambassador David MacNaughton mentioned in a letter to Wisconsin Governor Scott Walker and New York Governor Andrew Cuomo, saying overproduction of milk – not Canadian policies – was to blame for dairy farmer financial hardships in the U.S.
"Canada does not accept the contention that Canada's dairy policies are the cause of financial loss for dairy farmers in the United States," MacNaughton wrote. "The facts do not bear this out."
PHOTO: Illustration by Kevin Brown.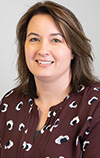 Karen Lee

Editor
Progressive Dairyman
Before commenting on our articles, please note our Terms for Commenting.