"The high-fertility cycle: How timely pregnancies in one lactation may lead to less body condition loss, fewer health issues, greater fertility and reduced early pregnancy losses in the next lactation."
Journal of Dairy Science Vol. 102 No. 6, 2019. This study by researchers from Michigan State University aims to understand the relationship between previous calving interval and body condition change during the first 30 days in milk (DIM) and their relationship to subsequent fertility and health variables and sex ratio at birth.
They enrolled 851 dry cows and heifers in the study approximately 25 days before calving date (all animals from a single farm).
The body condition score (BCS) of these animals was evaluated regularly before and after calving, until 33 DIM. They had all the relevant information about these cows, like previous calving interval, gestation length, health events, milk data, etc.
The authors hypothesized that time to pregnancy in the previous lactation would be associated with body condition change, health and fertility variables in the subsequent lactation.
A secondary objective was to describe how body condition changes and other measurements in first-parity cows were associated with fertility and health variables.
Physiological changes in early lactation can affect subsequent fertility of lactating dairy cows, and it is common for dairy cows to lose body condition after calving. Multiple studies demonstrated low body condition or loss of body condition creates fewer pregnancies per A.I. at first service.
Furthermore, studies have shown a significant increase in pregnancies per A.I. if cows gained or maintained body condition during the first three weeks postpartum.
BCS can be a good instrument for these studies because it is a key indicator of cow health and a useful tool in monitoring the nutritional state of cows.
The study demonstrated cows that become pregnant before 130 DIM have a greater chance of maintaining or gaining body condition during the first 30 days of the subsequent lactation, leading to a greater chance of pregnancy and a reduced chance of pregnancy loss from 35 to 60 days post-A.I.
This leads to greater chances of maintaining a cycle of pregnancy before 130 DIM. Based on data in this study, maintaining a cycle of pregnancy before 130 DIM will likely enhance pregnancies per A.I. at first and subsequent A.I. and reduce the possibility of early pregnancy loss.
The authors called this potential phenomenon the high fertility cycle. It is a very interesting concept, and it should put even more pressure on the need to have a smooth transition from the dry to the lactating period.
"Effect of heat stress during early, late and entire dry period on dairy cattle." Journal of Dairy Science Vol. 102 No. 6, 2019. This was an interesting study by researchers from the University of Florida to determine if the effects of heat stress during the dry period would be equally negative if it affected cows during different phases of the dry period, namely the early, the late or the entire dry period.
The authors explain that during the dry period, the mammary gland goes through three processes: active involution, which starts right after you stop milking the cow and represents the period of transition of the tissue from a lactating to a non-lactating state; steady state of involution, which represents the non-lactating state; and finally, the redevelopment (growth) phase, when much of lactogenesis and colostrogenesis occur.
Therefore, the negative outcome of heat stress during the dry period may be related to compromised involution and proliferation throughout the dry period or at a specific period.
Based on other studies, it seems that cooling for the entire dry period appears to induce higher yield responses than late dry period cooling, so the effect of heat stress during the involution phase of the dry period may be greater than that during the proliferative phase.
This is useful information since sometimes we see farms that may have good heat abatement strategies on the close-up/maternity pen but not on the far-off group, and this study can help better manage those strategies.
Although dry cows generate less metabolic heat and have a higher tolerance to heat than lactating cows, it is known that environmental heat stress during the dry period negatively affects performance in the subsequent lactation.
For this study, cows were randomly allocated to the heat stress group (HT) or the cooled group (CL, shade, fans and soakers).
Some cows were cooled, and others were subjected to heat stress for the full duration of the dry period. Some were cooled for the first part of the dry period and heat stressed after, and another group was heat stressed for the first part of the dry period and cooled afterwards.
Cows exposed to prepartum cooling during the entire dry period had increased dry matter intake compared with cows exposed to heat stress during the late dry period. Heat stress at any time reduced gestation length compared with cows under prepartum cooling during the entire dry period.
Dry period length decreased by about four days if cows were exposed to heat stress at any time. Interestingly, prepartum cooling during the early or late dry period alone partially rescued milk yield – but only in the first three weeks of lactation (CL, 32.9; HT, 26.6; CLHT, 29.7; HTCL, 30.7 kilograms per decilitre).
Cooling for the entire dry period increased milk yield up to 30 weeks into lactation compared with all other treatments. In conclusion, heat stress at any time during the dry period compromises performance of cows after calving.
Combining the information from these two studies, it seems that providing proper heat abatement strategies for dry cows should be a priority of the dairy operation.
This column brings you information regarding some of the research being done around the world and published in the Journal of Dairy Science. The objective is to bring to light areas of research that may have an immediate practical application on a dairy farm as well as research that, even though it may not have a practical impact now, could be interesting for its future potential application. The idea is to give a brief overview of select research studies but not go into detail on each topic. Those interested in further in-depth reading can use the citations to find each study.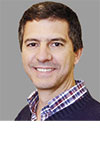 Pedro Nogueira

Nutritionist
Shur-Gain