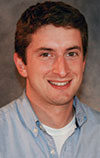 Samuel Fessenden
Nutrition Technical Support and Development Associate
Agricultural Modeling and Training Systems (AMTS)
Elgin, Minnesota
What education are you bringing with you to this position?
I received my Bachelor of Science in animal science at Cornell University where I focused on dairy nutrition and management. I then completed my master's degree at the University of Minnesota, advised by Dr. Marshall Stern. In 2016 I earned my Ph.D. from Cornell University, where I worked with Dr. Michael Van Amburgh. My dissertation research focused on rumen metabolism, amino acid supply and development of the Cornell Net Carbohydrate and Protein System (CNCPS).
Please describe your agricultural background.
I grew up on a 650-cow family dairy farm in central New York. My time on the farm cemented in me a desire to be involved in dairy production. Outside of New York, I have been able to visit many other agricultural operations, domestically and internationally. Some of the most memorable experiences were a semester in New Zealand, an internship in Italy and visits to agricultural operations outside the Northeast U.S.
What territory will you cover?
Global.
What are your new responsibilities?
My primary focus is providing technical nutrition support to AMTS users and industry support people. I also participate in new product development, specifically the integration of farm data systems and decision-making support tools.
Who has made the biggest impact on your career?
My parents, who early on instilled in me a passion for dairy production, and Dr. Mike Van Amburgh, who has provided excellent mentorship in my career so far.
How will you be of most help to producers in your region or area of expertise?
My experience in the development and implementation of the CNCPS will enhance nutritionists' ability to use data-based decision-making on the farm. I am excited to be joining a team that brings extensive model knowledge and outstanding customer support to the field.
Why did you choose this company?
I chose this company because of the flexibility and diversity provided by this position. In this role, I will teach and learn from nutritionists and dairy producers around the world. I will also participate in the continued development of the CNCPS, which will greatly benefit our users as the model continues to evolve.
What goals would you like to accomplish while in this position?
This company provides excellent customer and technical support; I hope to add to this strength. I also plan on improving our portfolio of data-driven nutrition support tools. Overall, we seek to provide nutritionists and producers with the best information and tools possible to enhance the health, productivity, profitability and well-being of the animals under their care.