Genetics and research Vice President
Over the last several decades, the dairy industry has gone through major changes and has never been so much in motion.
Many developments have improved the performance and profitability of Canadian dairy farms.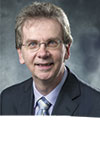 One area particularly affected by those advancements is dairy genetics. Pierre Laliberté, former genetics and research vice president at Semex, discusses the progress made by genetics over the last 40 years.
What was your career path that brought you to the head of the genetics programs at Semex?
Laliberté: After graduating from Laval University in Quebec in 1979, I started my career at the Centre d'insémination artificielle du Québec (CIAQ) in the sire purchasing department – mainly for the Ayrshire bulls selection, since I was raised on an Ayrshire farm.
In 1986, I became purchasing manager for all dairy breeds until 1995, when I then became the genetics director. A few years later, in 1997, Semex Alliance was created from a partnership among WestGen, CIAQ, Eastern Breeders Inc. (EBI) and Gencor.
We then proceeded to pool all of the bulls from all partners, and I was named genetic programs director – a title I held until my retirement at the end of 2016. There was a brief six-month interlude in 2007 when I held the position of acting chief executive officer.
Which special projects have you helped develop during your career?
Laliberté: Among the many projects in which I have more closely collaborated, I would like to mention the identification operation carried out in Quebec in the mid-1990s.
The main objective was to bring herds already doing regular milk testing to identify their young heifers and make them eligible to use young sires in A.I. The idea was: By the time the females would be in production, the percentage of animals identified would be high enough to qualify for genetic evaluations.
In only one year, more than 1,000 herds were added to the existing bank. We were then able to increase the use of young sires in Quebec, helping our chances to develop better bulls for the CIAQ.
A few years later, the PIC Program [introduction to classification program] followed and mainly focused on these same herds to make them score their young cows.
Later, when I arrived at Semex, I worked on developing our American testing program to offer a more diversified product. I also helped in setting up structures to select dairy bulls on the international stage.
Of all technologies you've seen emerge in the dairy genetics field, what do you think had the biggest influence on dairy farmers?
Laliberté: Although all technological advancements have had significant impacts on the genetic progress of the Canadian dairy producers, genomics has been nothing less than a revolution, changing our industry like no one would have imagined.
The increased precision of the genetic potential for both females and males has greatly improved the quality of the sires selected to enter insemination centres.
From a genetic programs director's point of view, the genomics arrival has led us to significantly modify our selection methods by genotyping thousands of young bulls and using untested bull fathers and younger dams.
Eventually, due to the massive interest in genotyping, even greater genetic gains are expected over the next years. This is especially true for lower-heritability traits that were much more difficult to improve before the advent of genomics.
During your 37-year career in dairy genetics, what job-related accomplishments are you particularly proud of?
Laliberté: When I look in the mirror and think about all these years in which I have held various positions for the CIAQ and Semex, I am especially grateful to have worked in a very dynamic environment and to have met great people.
I really liked what I did, whether it was buying sires or involvement in research at the genetic level. However, I am particularly proud to have been able to collaborate with various industry partners through different committees and boards of directors, such as breed associations, milk testing companies, Canadian Dairy Network and other A.I. centres.
We worked together to make our industry more efficient and responsive to Canadian dairy farmers' needs.
According to you, which sire had the greatest impact on the genetic advancement in Canadian dairy herds?
Laliberté: As a privileged witness to the genetic improvement of Canadian dairy cattle for almost 40 years, I have seen many great influential sires.
Nonetheless, personally I would say Hanoverhill Starbuck EX Extra'85 is literally in a class of its own. There is no doubt several bulls have been better than him from different points of view, but none of them have had as much impact as he did.
Before Starbuck's arrival in the mid-1980s, the productive cows often lacked conformation, and the show champions were severely missing dairy character.
For myself, Starbuck was the first to combine both. In addition, during his time, he was a great sire, and his daughters dominated the show rings as much as the best-productive cows on the list.
How do you see the role of A.I. centres over the next 10 to 20 years?
Laliberté: To continue to be successful in the upcoming years, A.I. centres will have to listen to progressive dairy farmers and those who will still be active despite the difficult market conditions.
They will have to ensure they offer a product that meets dairy producers' needs in regard to specific traits, the combined selection index or a diversified range of products, with the main objective of increasing the profitability of dairy operations.
The aspect of semen fertility will also have to be prioritized in order to offer the best genetic-fertility combination.
Each farmer has his own reality and specific needs; A.I. centres must not only be suppliers of genetic material, they also must be consultants in the same way as the nutritionist, the veterinarian or the financial adviser.
What motivates you most about the future of the Canadian dairy industry?
Laliberté: As many others, I would like to have a crystal ball to predict the future, especially in these rather uncertain times.
Being optimistic by nature, I believe with the infrastructures the industry has built – the cooperation among the different stakeholders, the quality of our dairy cattle, the special care paid to consumers' needs and the development of new dairy products – the Canadian dairy industry will continue to be a strong force in Canada and admired by other agricultural sectors.
What message would you like to give to progressive dairy farmers?
Laliberté: First of all, I truly admire dairy producers. I've had the opportunity to get to know many during all my years working directly or indirectly with them and, for the most part, they are passionate, hard-working and oriented towards the future.
My message is simple: Do not hesitate to ask for advice, surround yourself by people you trust, and be aware of the latest developments. You can decide to adopt technology or not, but being informed will help you maximize your chances of success.
PHOTO: At the end of the 1980s, Pierre Laliberté had no idea the photo of himself, Hélène Keurentjes and Marc Comtois with Elysa Anthony Lea EX 15*, would became a part of history. Lea, dam of the well-known Comestar Laurie Sheik VG-88 23*, became the ancestor of all Comestar 14 Extra Sires (which is a record for a Canadian farm), with Comestar Lautrust VG being the most recent to receive this distinction. Photo provided by Pierre Laliberté.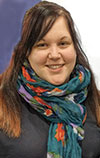 Melissa Marcoux

Freelance writer
Sainte-Sophie D'Halifax, Quebec