Dann Brady is co-owner of Blondin Sires Inc. and has served as sales and marketing manager for the past eight years at Ferme Blondin.
Brady spends his days doing much more than purchasing bulls and selling semen. He is part of a team responsible for doing the research to make methodical and strategic genetic selections, and these important decisions are advancing both Blondin Sires and Ferme Blondin forward as leaders in the field of dairy cattle genetics. In fact, their breeding program has produced one of the top bulls in the world for conformation and type, Blondin Thunder Storm. Brady says it is being a part of successes like this that gets him excited to go to work every day.
While cows consume much of his life, Brady makes room for a couple of outside hobbies. He is an avid fan of the Olympics and loves spending time with his dog. So much so that he says if he was not involved with breeding cattle, he would love to work with and breed dogs, specifically golden retrievers. "Dogs are always positive, happy and excited to see you. They love to have fun," Brady says.
Brady tells Progressive Dairy about the five things he could not do his job without:
1. Cellphone – Brady relies on his cellphone and internet connection to get his work done. When asked if he was an Apple or Android user, he responds, "Android all the way. I use a Samsung Galaxy S10. Because I take a ton of photos and video with my phone, I need the expanded memory that Samsung allows. I also want clear, crisp photos – the S10 takes the best photos."
His go-to apps are Facebook, Pages Manager, Snapchat, Outlook, Calculator, Currency Exchange and Flipboard.
2. Laptop – "I don't go far without it, as it holds all the data and information of our business," Brady says. His most-used programs on his MacBook Pro are Outlook, Chrome and Excel.
3. Facebook – Brady credits a large volume of business to Facebook. "It lets us connect as an industry with people who share our passion for great cows, no matter what country they are in," he says. "We wouldn't have built the brand and image today for Ferme Blondin and Blondin Sires without it."
4. Canadian Dairy Network (CDN) website – "The amount of information this site holds is amazing," Brady adds. "I literally have 10 to 15 tabs open for CDN at any one time."
5. Workbook and special pen – "My pen was given to me as a gift, and shortly after I received it 15 or more years ago, I signed one of the biggest deals I had to date," Brady recalls. "Now, it goes with me everywhere and I sign all big deals with it, like the paperwork to start Blondin Sires." Though he lives in a digital world, Brady still likes an old-fashioned pen and paper. "I am very electronic but, in a meeting, it needs to be pen and paper to be faster, efficient and non-intrusive," he says.
PHOTO: Dann Brady is standing with Tappenvale Doorman Missy, VG 86 2-year-old, dam of Tappenvale MOMENT, which is one of Blondin Sires' bulls. Photo provided by Dann Brady.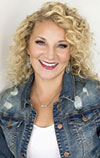 Peggy Coffeen

Editor
Progressive Dairy