Advancements in technology, data collection and the future were top of mind during this year's Canadian Dairy Cattle Improvement Industry Forum and CDN Annual General Meeting.
More than 100 delegates from Canada and the U.S., representing A.I. companies, breed associations, milk recording organizations and Dairy Farmers of Canada, gathered in September at Deerhurst Resort, Huntsville, Ontario, to discuss current topics concerning the state of the Canadian dairy industry and to share ideas for the future.
Neil Petreny, CanWest DHI general manager and forum moderator, set the stage by holding up a large computer data storage card from the 1960s, comparing it with the 8-inch floppy disk that could hold 80KB of data, all the way to what we have today, the USB stick. He related the changes we've seen in the dairy industry to these advancements in technology over the past 50 years.
"Remember where we've come from, but as we look to the future, also recognize as much as we like to predict where things were going, I don't think people back in the 'card days' really prepared and anticipated these steps that we've gone through here to where we are today," Petreny said.
During the day, seven speakers presented their thoughts on various topics and discussed opportunities and challenges they foresee in dairy in anticipation of what the future may bring. Here are some highlights:
Sensory data
With today's surplus of on-farm technologies, many variables in data collection are in play. Steven Sievert, technical director, National DHI USA, began with the basics: what can be measured from a dairy cow, how data is collected, what it can be used for and why it is important.
Data sensor devices (e.g., eartags, implants, transponders) create challenges and opportunities. Depending on the type of data sensor being used and its accuracy, consistency and reliability, it can positively or negatively impact the bottom line. "There is really no true standard that exists right now. We don't have validation protocols or maintenance regimes for these sensory devices. We have dairy producers that are making decisions based on a bunch of numbers they are getting, rather than having a solution-driven program that is based on real data," Sievert explained.
Technology is rapidly improving and is now easily adaptable by dairy producers. No matter what is being measured (for example, somatic cell counts, milking speeds, body condition scores, etc.), most dairy management decisions are based on data. Therefore, it is important to understand what is usable, functional and where we can go.
Moving forward, the International Committee for Animal Recording (ICAR) Sensor Device Task Force has three goals:
Classification, qualification and potential ICAR approval of sensor devices
Dissemination of recording guidelines using data from sensors
Development and distribution of best practices or data collection from sensors
"We want to provide the solution and the direction to the entire industry, to help understand what data we can use and how we should use it," Sievert said. The industry needs to embrace the balance of cooperation and competition, "coopetition," to continue to deliver tools to help dairy producers manage their herd.
Future phenotypes
Brian Van Doormaal, CDN general manager, said to determine which phenotypes and how many will be required in the future, the industry needs to first define the purpose or goal of the data, be it for the national data collection scheme or to offer additional value to producers for improved herd management decisions. "Now in the era of genotypes, it is actually the phenotypes that become the golden measure, standard and requirement," he said. With genomics and the use of on-farm technologies, traditional data collection systems are at risk.
During the open panel, panelists were asked what they thought would be the next traits that the industry will need to collect, which are not being collected today. Van Doormaal suggested disease resiliency and reproduction phenotypes would be of interest.
A.I. in 2027
Looking into the future from an A.I. perspective, Nate Zwald, COO, Genus ABS Dairy, stated, "I think when we talk about the future, it's really not what we don't know, it's what we know that's just wrong."
Challenges today include fewer youth in agriculture, as a result of the decreasing number of farms, and maintaining the North American "gold standard" of genetic evaluations.
"It is important for U.S. and Canada to make sure that the actual evaluations are the most accurate and the most complete as anywhere in the world," Zwald said.
In the future, the industry will see a decrease in the cost of technology, an increase in business consolidations, the growth of niche marketing (e.g., A2A2 milk, organic) and more cost-effective genetic solutions provided by A.I. companies themselves. With advancing technology at a lower cost, he estimated genomic tests to cost anywhere from $15 to $20. Embryos will also become more and more a part of commercial dairy production.
Genomic bull usage will level out at 70 to 75 percent, and inbreeding will grow from 7 percent today to more than 9 percent in 10 years. "We don't get genetic progress unless we have inbreeding," Zwald said. Each generation is looking for a more profitable, healthier and happier cow, and with genomics, as long as it is managed properly, inbreeding will not be a concern.
Organization- versus breeder-owned females will drive a competitive marketplace for bulls, resulting in fewer animals being sold by breeders to organizations. Zwald said by 2027, only 10 to 20 owners or ownership groups will own 20 percent of the cows, equaling approximately 2 million cows.
Zwald concluded by stating, "The industry is going to look a lot different in 2027, and none of us know exactly what that looks like, but it's going to be a really fun ride getting there. While it's fun to think about the future, it's really awesome to be in this industry today. It's a really exciting time."
Dairy Cattle Improvement Industry Distinction Award
During the forum, the CDN board of directors recognized Russell Gammon of Fergus, Ontario, by presenting him with the 2017 Dairy Cattle Improvement Industry Distinction Award for his significant contribution to the Canadian dairy sector. CDN Vice President Garry Bowers praised Gammon for his leadership, dedication and pushing the status quo, especially with the Jersey breed. In accepting the award, Gammon said, "Today we have every opportunity and no excuses to take these genetic tools to marry them with other technology and make strides like never, ever before." He also urged the dairy leaders in the room to embrace change, avoid reacting and choose to respond to the challenges ahead.
2017 CDN Annual General Meeting
Van Doormaal presented the budget, reviewed 2017 expenses – such as the development of the new CDN Global website (now available in English, French, German and Spanish) – and shared details of the CDN and Holstein Canada Genetics Decision Software to be launched in 2018. Also partnering with Zoetis, this bilingual, web-based software tool will be free for Canadian producers.
The goal of the project is to help dairy producers make genetic decisions. Van Doormaal explained the tool will "help breeders understand the genetic progress they've already achieved with their past breeding program and also help benchmark where they are and where their herd stands genetically compared to other herds across the country."
The CDN board welcomed new board member Barbara Paquet from Valacta, who was elected to represent the milk-recording sector, replacing Pierre Lampron, who has recently accepted the role of president of Dairy Farmers of Canada. CDN also announced that Réal Gauthier was appointed by DFC to replace Denis Morin on the board. Morin retired earlier this year.
Next year's Dairy Cattle Improvement Industry Forum and CDN Annual General Meeting will take place from Sept. 19-20, 2018, in Montreal, Quebec.
Visit the CDN website for more information.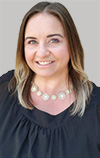 Lora Bender

Editor
Progressive Dairyman
PHOTO 1: The 2017 Dairy Cattle Improvement Industry Distinction Award was awarded to Russell Gammon for his influential years of dedication to the Canadian dairy industry. Pictured, left to right, are Norm McNaughton, EastGen; Russell Gammon; Gary Bowers, CIAQ; and Brian Van Doormaal, CDN.
PHOTO 2: At the Canadian Dairy Cattle Improvement Industry Forum and CDN Annual General Meeting, Neil Petreny – CanWest DHI general manager and forum moderator – kicked off the morning panel by holding up computer data storage cards from years past and comparing them with how evolving data will change dairy reproduction in the future. Panelists included, left to right, Alison Sunstrum, GrowSafe Systems Ltd.; Steven Sievert, National DHI USA; Daniel Lefebvre, Valacta; and Brian Van Doormaal, CDN.
PHOTO 3: Nate Zwald, Genus ABS Dairy, took a look at the future of the industry from his A.I. perspective. Photos by Lora Bender.