On Dec. 10 in Guelph, Ontario, researchers from around the world presented their recent findings and gave research updates for the Efficient Dairy Genome Project (EDGP).
Funded by Genome Canada, the EDGP is a 10-year international research project led by Filippo Miglior from the Canadian Dairy Network and the University of Guelph, and Paul Stothard from the University of Alberta.
Working alongside a group of researchers from Ontario, Alberta, Australia, the U.S., United Kingdom and Switzerland, the project's overall objective is to improve feed efficiency and reduce methane emissions in dairy cattle using genomics.
Increasing feed efficiency (FE) and decreasing methane emissions (ME) are two genetic traits not yet selected for in the dairy industry but, as was revealed at the symposium, scientists and researchers are hard at work to change that.
With continuous research and development, these traits will allow dairy producers to selectively breed feed-efficient cattle and decrease environmental impacts, both of which are hot topics in the industry today.
The symposium covered several research studies working towards the goals of the EDGP. Here are a few highlights:
• David Worden from the University of Guelph conducted a national dairy producer survey to calculate the possible rate of adoption of the two traits, FE and ME, and at what premium they would be willing to pay for using this technology.
The results revealed producers will adopt the technology, but it depends on their comfort level and understanding of genomic evaluations. It also showed producers would be willing to pay up to an extra $17 to be able to select for feed efficiency in terms of A.I. premiums and genotyping heifers.
Worden advised, "Being transparent and up-front about the technology with the potential risks of adoption are going to be key." He said subsidies and discounts may be an effective method to encourage early adopters, especially larger herds, to get more animals genotyped and therefore improve selection accuracy.
• Ellen Goddard from the University of Alberta discussed the potential market and environmental impacts from breeding more feed-efficient dairy cattle. She pointed out the dairy industry must be socially responsible, environmentally sound and economically viable to remain sustainable.
Applying the life cycle analysis to the Canadian dairy market, she estimated the fat- and protein-corrected milk (FCPM) produced from 1 kilogram of dry feed equals 0.92 kilogram of carbon dioxide emissions.
Goddard stressed this number is not "etched in stone," as there are many variables, such as the number of cows, litres of fluid and industrial milk produced, genomic adoption time lags and producer/consumer behaviour.
"With quota associated with production, it is not clear what will happen unless we know something about the economics of how people make decisions about how many cows they want to have in their herd. Will that put upward pressure on quota prices by early adopters? All of these economic things need to be worked out before you can say with any certainty what the effect of aggregate greenhouse gases are likely to be in a particular marketplace."
On the consumer side, studies showed less than 40 percent of Canadians hold strong environmental views. The more consumers are convinced farming has an impact on climate change, the more willing they would be to pay for dairy products produced from more environmentally friendly systems.
With the supply management system, Goddard said the industry seems to be moving towards sustainability with 11,280 dairy farms in Canada producing 84.7 million hectoliters of milk and cash receipts totaling $6.17 billion (data from 2016).
• The EDGP phenotype research farm, SunAlta Dairy, is located in Ponoka, Alberta and owned by commercial dairy producer J.P. Brouwer.
Since beginning with the project, the farm has reduced its number of milking cows from 420 to 380 cows – a result of increased production and gaining feed efficiencies. With 200 GrowSafe feed troughs installed throughout the barn, they measure feed wastage, daily intakes and animal location for 220 animals.
Brouwer shared there have been a few technical issues such as trough damage and tag loss. In addition, he purchased and adapted a feed wagon with near-infrared (NIR) technology.
• Jan Lassen from Viking Genetics in Denmark presented another way to individually identify cows and measure feed intake by using 3D technology.
Using MS Xbox One Kinect v2 systems and RFID tag readers, 3D cameras were placed over the entire feeding area, and every five seconds the camera takes an image of the cow.
Drawing a 3D image of the cow, the system can measure and monitor FE in a commercial environment without influencing production or daily working routines.
The ability to select dairy cattle genetics based on FE and ME will impact the industry around the world. Working together using genomic technology, the EDGP continues to make strides towards a more profitable and environmentally friendly future.
The expense and complexity of measuring traits like FE and ME has led to the international collaboration on this project. It's possible more collaboration like this could occur in the future for other expensive novel traits.
PHOTO: As part of the on-farm research portion for the Efficient Dairy Genome Project (EDGP), Sunalta Farms in Ponoka, Alberta, installed feed troughs to measure daily intakes, feed waste and animal location. Photo provided by J.P. Brouwer.
According to the EDGP website, the benefit of selecting for these two traits for the Canadian dairy industry is estimated to be $108 million per year. Preliminary results include reducing feed costs by $108 per cow per year and methane emissions by an estimated 11 to 26 percent.
References have been omitted but are available upon request. Click here to email an editor.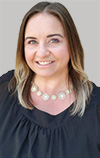 Lora Bender

Editor
Progressive Dairyman