A dairy producer panel discussing the return on investment based on genetic strategy was presented in November as part of the Supreme Dairy Show in Saint-Hyacinthe, Quebec.
Three dairy producers well recognized for their progressive vision of the dairy industry – Nicolas Landry, Tim Clark and Lloyd Holterman – presented their genetic vision and discussed economic impacts. Dan Carroll, dairy program manager at STgenetics, also presented the latest advances in the technology of sexing bovine semen.
Speaking on the evolution of sexed-semen technology since it was first launched in the industry, Carroll compared this revolution with that of the telephone. He associated the first marketed doses of sexed semen to a rotary-dial phone.
Now, completely overcome by new technologies, according to Carroll, the new generation of sexed semen could be compared to the smartphone: a high-performing, superior-quality product created with a cutting-edge technology.
Carroll also took the opportunity to present the groundbreaking results of an all-new sexing technology, which contains twice as many spermatozoa and has a relative fertility equivalent to conventional semen, according to the cited study that includes more than 7,500 inseminations.
Carroll mentioned this is a crucial point in the history of sexed semen since parity in fertility results with conventional semen has been achieved for the first time.
Nicolas Landry
Ferme Lansi
Saint-Albert, Quebec
Milking 550 cows that produce 11,550 kilograms of milk with 10 robots and 2,600 acres, Landry affirmed that his family business's main objective is to maximize dairy production, so he adapted his genetic strategy accordingly.
Following a landmark visit of an American elite herd some years ago, he chose to be much more aggressive in his genetic approach and now uses mostly dominant genomic bulls to achieve his productivity goals.
Aware of the importance of genetics to the farm's revenues, Landry presented an analysis which showed first-lactation females that are part of the top 25 percent for genetic superiority for fat went on to produce 84 kilograms more fat per lactation than the bottom 25 percent, or the genetically inferior group.
If all cows within his herd produced as much as the superior group, he estimated the farm would have an extra economic gain of $109,479 per year (related to this productivity increase only).
To maximize the performance of his herd, Landry said he prefers to use sexed semen on his best females, as well as A.I. breeding and in vivo flushing, to expand the female asset. Kilograms of fat and protein, daughter fertility, mastitis resistance and herd life are the main genetic traits favoured as part of the farm's genetic strategy.
Tim Clark
Tranquillity Agriculture Inc.
Mirabel, Quebec
Tranquillity Agriculture Inc., co-owned by Clark, includes 170 cows in lactation producing 1.43 kilograms of fat per day with three robots on 800 acres of land along with a maple syrup operation.
Presenting himself as a "techno-geek," Clark is involved in several research projects and is particularly fascinated by new technologies that aim to increase efficiency on the farm as well as in the fields.
When genomics was launched, he completely revised his genetic plan and used almost exclusively genomic sires. As a result of this rapid and visionary decision, the genetic gain observed from one generation to another has increased more than ever in the history of the farm.
Clark not only applies the scientific concepts of genomics on the farm but also invests in females with high genomic potential, such as Seagull-Bay Miss America-ET and Ronelee Hero Donalynn-ET, two donors which worked extensively in the U.S. and have produced exceptional offspring in the breed.
To continue increasing his profitability, Clark now genotypes all of his females at birth, and he noted a significant difference between the genetic potential of his superior and inferior females – a difference which, according to the Pro$ index, will lead to an additional cumulated profit of $2,322 at 6 years old for each female in the superior group.
As a result, his strategy is now to use the "best bulls" available in sexed semen with his superior group, use bulls that are genetically equally dominant in conventional semen with his intermediate group and use sexed male Angus semen in his inferior group to avoid raising females with limited genetic potential and to maximize the price of calves sold at auction.
While focusing on economic traits such as kilograms of fat and protein, Pro$, net merit, daughter fertility and body condition score, etc., Clark said he hopes to use sexed semen exclusively in his herd in the very near future and is enthusiastic about including a genetic index for feed efficiency sometime soon.
Lloyd and Daphne Holterman, Tim Strobel and Jordan Matthews
Rosy-Lane Holsteins LLC
Watertown, Wisconsin
Owned by four partners, the Rosy-Lane prefix is recognized in the U.S. and around the world for the innovative management of its dairy business. Speaking on behalf of the farm, Lloyd Holterman shared its technical and economic results, including 960 cows in lactation, 1,950 acres of crops and some 20 full-time employees.
Holterman explained the farm records 92 percent of its revenue through the sale of milk and has the goal of producing 1.7 litres of milk per kilogram of dry matter intake.
From the 1,200 calvings in 2015 at the farm, they recorded 0.9 percent displacement of abomasum, 0.03 percent ketosis, 0 percent milk fever and extended the period without antibiotic treatment for cases of mastitis to an impressive 41 months.
In accordance with American and Canadian national statistics, the main reason for on-farm culling is fertility, which has decreased in the short term through effective management and a synchronization program.
However, for long-term improvement, Holterman advocated for a genetic strategy based on health traits and considers important the role of the genetic component in achieving the above-mentioned results.
Since 1992, he has been selecting bulls for productive life and considers this selection as a better guarantee of longevity and health for the herd – particularly for lameness – compared to conformation traits, which he voluntarily ignores in his bull selection.
The group of bulls currently used is almost exclusively made up of genomic bulls with high fat and protein potential, daughter pregnancy rate, net merit and productive life. Crucial to the farm's profitability, Holterman pointed out that healthy cows allow for greater feed efficiency.
He justified his affirmation with an analysis that shows that by increasing as little as 0.06 kilograms of milk per kilogram of dry matter intake, Rosy-Lane Holstein LLC is able to generate an additional profit of $254,314 per year.
In an economic situation where there is increasing pressure on dairy producers to generate more with fewer resources and for a lower sale price, these three progressive producers have developed management strategies, in particular through their investments in genetics, with a focus on profitability.
The panel on the return on investment based on genetic strategy was hosted by STgenetics Canada as part of the 2016 Supreme Dairy Show. Video coverage can be found online (The Bullvine).
PHOTO: Dairy producer panelists shared their genetic strategies at the 2016 Supreme Dairy Show. They included, from left to right, Dan Carroll, dairy program manager at STgenetics; Daphne and Lloyd Holterman, Rosy-Lane Holsteins LLC; Nicolas Landry, Ferme Lansi; and Tim Clark, Tranquillity Agriculture Inc. Photo by Lora Bender.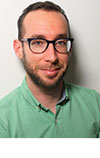 Dany Plourde

Genetic Program Manager
STgenetics Canada
Before commenting on our articles, please note our Terms for Commenting.