The Master Breeder Award is the most prestigious award presented by Holstein Canada. It recognizes breeders' cumulative success and rewards producers who breed "the complete package."
In this article, we'll look at how those points are granted and how producers can access their point information whenever is convenient for them.
At the Holstein Canada office, there is a team dedicated to tracking and verifying the points individual animals and herds accumulate throughout the year.
In January of every year, their work culminates with the exciting revelation of the results of the master breeder calculations.
The board of directors developed the first set of rules for this award in 1929, striving to achieve equal opportunity for small and large breeders.
The very first award for a private farm was presented to the Hon. J. Walter Jones from Prince Edward Island in 1931. In April 2016, the 1,000th Holstein Canada Master Breeder Shield was awarded.
To be eligible, breeders must earn both production and classification points. This means only herds that register, classify and milk record are able to achieve master breeder status.
Production points can be awarded in one of three ways: composite deviation, composite BCA and lifetime production (Table 1).
Animals with a minimum score of 83 points are awarded points for classification (Table 2). After having earned production and classification points, animals can earn extra points through longevity and sire contribution (Tables 3 and 4).
Breeders are separated into groups depending on their registration average over a 16-year window. The number of master breeder shields presented within each group depends on the population of animals and herds (Table 5).
A series of regulations must be met for breeders to receive the master breeder shield:
1. Recipients must be Holstein Canada members in good standing.
2. The animals included in the calculation must be born within a 16-year birth window. Animals can only contribute to one shield, therefore for a herd to be awarded an additional shield, there must be a minimum of 14 years between the first and the second.
3. All animals that carry the breeder's prefix are included in calculations.
4. The prefix must have a minimum of seven females of at least 75 percent purity per birth year on average.
5. One or more females must be born and registered in 14 of the 16 years in the window.
Breeders can access their master breeder analysis reports at any point throughout the year through their Holstein Canada web accounts.
In October, a preliminary report is mailed out to breeders, showing all animals contributing points, all points earned, which group they fall into and where they rank within that group. This report is also available on the producer's Holstein Canada web account.
Every January, the final master breeder calculations are processed for the previous year, and winners are announced via social media and a press release. The winners are awarded their shield at the Holstein Canada Convention every year in April.
More information on master breeder and other awards is available on the Holstein Canada website, under Awards-Lists.
PHOTO: Marsfield winning their 2018 Master Breeder shield at the 2019 Master Breeder Gala in Charlottetown, Prince Edward Island. Photo provided by Holstein Canada.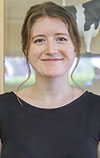 Michelle Reeves

Bilingual Extension & Education Specialist
Holstein Canada