With a growing interest in beef-on-dairy breeding programs and more and more dairy producers implementing these strategies, the organizers of the 2019 Canadian Dairy XPO invited a panel of speakers to share their experiences in this field.
Meet the panelists
Three generations work together at Wicketthorn Farms Inc. in London, Ontario. Craig Connell is the patriarch of the operation that milks 350 cows, farms almost 1,800 acres and runs a feedlot that can hold 2,500 head. All bull and beef-cross calves from the milking herd are raised on automatic feeders and then enter the feedlot.
Brad Gilchrist is the fourth generation at Gilchrist Farms, which consists of 150 purebred Angus cows that produce offspring for a production female sale and production bull sale each year. They also finish some steers and heifers, and crop and pasture 750 acres. In addition, he is the beef program director for Semex.
Aaron Keunen is a partner in Mapleview Agri Ltd., a milk replacer company in Palmerston, Ontario. He manages the cattle division that finishes around 3,000 veal calves a year. A few years ago, they started raising up to 1,100 steers as well. They purchase all of their calves around 10 days old, bringing in 75 to 100 per week. Market conditions dictate how many animals enter their veal or steer program.
Rita Maciukiewicz and her husband operate Andita Holsteins Inc. in Belwood, Ontario. They recently added a second robot to help milk their 70 cows. They also crop 500 acres, raise heifers for herd replacements and bull calves for veal. "It's a learning curve for us, but it's a good one," Maciukiewicz said.
What is your primary focus when breeding cows?
CONNELL: All heifers are bred with sexed semen to high-gemonic dairy bulls. They get two chances of A.I. to Holstein and are then bred to Angus. For the cows, up to 50% are bred to beef. If there is a specific problem, we will breed to beef right away, otherwise they get two chances with Holstein and then get beef … We don't look at the pedigree. If it doesn't hold Holstein a couple of times, we don't need to keep it.
GILCHRIST: When we look at breeding with a beef strategy, I think we really need to ask ourselves: Why are we doing this? Are we doing this as something to bring value to the end user and to be able to get a little more premium out of these calves? If that's the reason, we need to understand what that end user needs and what their wants are. At the same time, I think the end user also needs to understand what the dairy producer's wants and needs are. From the dairy standpoint, fertility and calving ease are two things that need to be really high on that list.
KEUNEN: When we're purchasing beef calves, the biggest thing we're looking for is vigor. Then we want to make sure we're picking up healthy calves and that the dairy farm is doing everything right so we can have the best calf.
When it comes to breed and build of animals, that will change the pricing. Most of that is based off of what we've learned as far as feed conversion goes, as well as grading at the end and yielding. A higher-yielding animal for us is worth a little more.
MACIUKIEWICZ: The primary spot we are using beef semen is on the lower end of our herd. We use a lot of sexed semen, and the top third of our herd gets sexed semen, the middle regular bull semen, and the bottom third will get beef semen. We pretty much never give our heifers the beef breed. We find they need something a little easier [for calving].
What bulls are you looking to breed with?
CONNELL: We like to use Belgian Blue on cows and will use British Blue or Angus as well. Any beef we use on the heifers is Angus, and we really don't see any calving difference between them and the Holstein.
With Angus, you'll get 50% that throw towards the Angus with good shape to them, and you'll get 50% that is really close to a black Holstein. With the Belgian Blue, you're going to have 90% that's going to throw beef.
The British Blue tend to be a little easier calving, and yet they shape up good at the end of the day. We're just having a little trouble getting the British Blue semen right now.
KEUNEN: The Belgian Blue are a little more finicky as far as raising when young; they just can't handle quite the same stress. With the Angus calves, they seem to be a little hardier even than the Holsteins. At the end, we sort of base our price around marketability. There are different times of year that different animals are marketed easier, whether it's in the veal side or the fat cattle side. There's a lot of different niche opportunities, especially with the higher-muscle animals.
The only thing I don't like to see when we get into breeds is big frames because they are really hard to feed on our program. We want to sell a younger animal, like a 15-month-old. We aim for 1,500 pounds, and we don't want to have too much frame to fill. With the Holsteins, if you get too much frame, your ribeye size and different cuts of meat for the packer starts to be undesirable. That's why you start to see some 20-cent to 30-cent cuts off the beef price.
MACIUKIEWICZ: We didn't have a big long list. It's only been about three years [that we've been breeding to beef]. We asked our local A.I. rep what he was carrying at the time. He had Limousin and Belgian Blue semen, so we asked him for both and went from there. We knew the Limousin was polled, so that was a bonus on our end. We've found the Belgian Blue to be not as vigorous as the other two breeds (Limousin and Angus) that we've used.
What is driving beef on dairy?
CONNELL: Coming from the United Kingdom, there has always been a big number of dairy cows bred beef. Some of our neighbours bred everything beef and just bought replacements.
Over here, for a long time, there was a good market for Holstein heifers – the more heifers you got, the better it was. That's changed dramatically over the last 18 months. That's where you see more of a rise in the use of beef here.
GILCHRIST: I think one of the bigger advantages is the genetic gain you can get on your heifers, especially anybody who's identifying those heifers with genomics and production. If we can increase the number of females coming from the top half of your herd, that's where you're going to find the most economic impact of breeding the bottom half to beef.
On the beef side, when we compare straight Holstein fed cattle to beef calves, you are going to get a few less days on feed, cost per gain is going to be lower, and your percent prime is going to be balanced out because you are going to get more marbling out of the Holsteins than what you are going to get out of the beef. The other thing you are going to get is a percent yield increase from using beef cross.
KEUNEN: I think there is a premium. For us, it's a matter of finding the market to go with it. Sure you can pay $75 or $100 more for an Angus calf, but it's just a matter of going to a market. As the crossbreds become more predominant on the bottom end of the dairy herd, then I think there's room for market development.
MACIUKIEWICZ: Here is a sales receipt for two animals we sold last week. One was a crossbred Limousin; the other was just a Holstein animal. One weighed 710; the other 715. There was a 19-cent price premium for the Limousin cross. There is definitely a market there to gain a few more dollars using the cross on your lower-end animals to gain some money back. It only takes six months to raise from birth to veal weight. It's well worth it, and it does pencil out using the beef semen.
What are you doing with heifers?
CONNELL: We buy males or females and feed them right through. We really don't have any problems. They go on to TMR as soon as they come home and a bit of grass hay in it. We like feeding the females just as good as the males.
GILCHRIST: Right now, in the beef industry, there is a big difference in the price of steers and the price of heifers. Part of the reason is heifers coming in to heat and also their ability to convert feed and yield the same as steers. What I do see happening a little bit is using sexed male beef semen in the dairies in California. I say that with a little bit of caution, as the two biggest things to dairy producers is calving ease and fertility, but possibly down the road there may be a premium for the sex of the calf.
KEUNEN: I'm fine to feed heifers. I think they can do just as well as the steers as long as they are grouped together. When we are purchasing heifers, they are obviously at a little bit of a discount because their days on feed are a little bit longer, but you can also ship a heifer a little bit lighter and still get the proper marbling. Heifers naturally have more fat covering than the steers.

Breeds like Belgian Blue, we grade at least one grade higher on the heifers; yield will be a percent or two lower. If the packer is concerned with marbling and grading, it's important to feed the heifers because you can get just as good of grades and meat quality out of them as you can out of the steers. Sometimes the steers end up being just a little too lean unless you can slow them down or alter your feed protocols you have in place.
MACIUKIEWICZ: When we have a set of twins born that are mixed, we'll raise them in the veal program. Also in the beef end, if it's a crossbred heifer, it'll go into the veal market, but we'll hold it back into the younger group to avoid problems when it comes in heat.
What can we do with Jerseys?
GILCHRIST: Feeders will tell you they are not getting enough performance out of a Jersey-Angus cross. The solution that's been used the most in the U.S. is Charolais. You want to be very careful to select a very high-calving-ease bull with Charolais. If you do pick the wrong bull, you can run into some issues on calving.
PHOTO: Offering up their experience with beef-on-dairy at the 2019 Canadian Dairy XPO were, left to right, Rita Maciukiewicz, Aaron Keunen, Brad Gilchrist and Craig Connell. Photo by Karen Lee.
The panel discussion was moderated by Kendra Keels, industry development director, Veal Farmers of Ontario.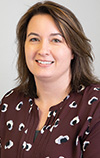 Karen Lee

Editor
Progressive Dairy