Note: These tips are in response to a question posed on the Progressive Dairy Twitter account. To submit questions for future Ask a Vet columns, please email inquiries to the editor, with subject, "Ask a Vet."
1. A healthy cow and calf:If a cow is deficient of energy, protein or vitamins and minerals, it will affect the calf's health and colostrum. Colostrum will lack quality and energy and will not contain enough antibodies.
These are the driving forces of the young immune system.
2. A clean, dry environment for the cow and calf: This includes all calving and calf pens, milking and feeding equipment and handler's clothes. Sealing the calf's navel with iodine is very important. Nutrition, vaccines and medicine cannot work if the calf is overwhelmed with a high number of organisms.
3. The right amount of quality colostrum collected from the cow and fed as soon as possible: The goal is to allow the best absorption of antibodies by the calf's intestine. Colostrum quality is at its highest the sooner the cow is milked and the calf is fed. A second feeding of colostrum is very important within eight hours of birth as calves need 300 grams IGg for protection. Calves also utilize this extra colostrum to generate heat.
4. Give the right vaccines at the right times for the right diseases: If you give a scours vaccine to your dry cows, all vaccines including boosters need to be given at least four weeks prior to calving to allow colostrum formation of antibodies. If you are giving oral vaccines at birth for the prevention of scours, the vaccine must be given immediately to allow for the absorption of antibodies. Timing is important, as the ability to absorb antibodies decreases the longer it takes to feed the calf.
Using the right vaccines for prevention is very important. Work with your veterinarian to test fecal or necropsy samples to determine which disease your farm is fighting. This will save you money on unnecessary vaccines. For example, vaccinating with oral vaccine for E. coli, rotavirus and coronavirus isn't worthwhile if your farm is fighting salmonella.
Remember there are many viral, bacterial, protozoa and nutritional causes of scours. There is no one perfect way to prevent scours, as each farm is unique and fights different organisms. Work with your veterinarian to find the right solution for your farm.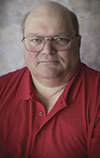 Jim Heier

Professional Services Veterinarian
Armor Animal Health