When Clarence Markus and his wife, Wendy, took over his family's 60-cow dairy, Markvale Holsteins in Beachville, Ontario in 1985, they knew they wanted to set the business up so that, someday, their children might have the opportunity to farm.
By 2013, they had expanded the tiestall barn and grown the herd to 110 cows, but God had other plans for their operation.
"The fire in 2013 certainly changed everything," Clarence says. "God took us from where we were to where we needed to go. It was just one big kick."
The fire gave the Markuses the opportunity to build a new, sand-bedded freestall barn capable of housing 300 milking cows. Currently, they only milk about 200, but having the extra space allows them to expand their herd when additional quota becomes available.
"We always think we'd like to sit still," Clarence says. "We're comfortable where we are … but we always have to grow our business. Unfortunately, those who don't grow will fall off."
While they have the option to grow their herd, it isn't the Markuses' only focus for growing their business. Efficiency is also key. For example, when Clarence and Wendy took over in 1985, the farm needed three people to run the farm. Wendy took care of the calves, Clarence managed the cows, and they had another full-time employee who milked. Annually, the farm shipped about 600,000 litres of milk. Today, Wendy and Clarence are still managing the calves and cows, while their youngest son, Mark, is in charge of milking the cows. It's still just three people managing the dairy, but now they ship 2.4 million litres of milk annually and run 4.1% to 4.2% butterfat and 3.3% protein.
More recently, the Markuses have turned their focus to the calf side of their business. After the fire, Clarence says they tried a number of different plans for their calves. They ranged from hutches to keeping them in an old barn that hadn't been lost in the fire. They were feeding calves 3.5 to 4 litres of milk replacer twice a day for a total of 7 to 8 litres. They had a calf mortality rate of 15% to 20%, and feeding calves was no longer enjoyable.
While Clarence says they should have pulled the trigger sooner, in 2017 they finally built the calf barn they'd been contemplating for several years. The new barn houses about 100 head of calves from zero to around 6 months old. At 6 months old, the calves move to a pen in the freestall barn that houses the rest of their herd.
When they were feeding calves before, Clarence says they always wanted to feed more often than twice a day, but they could not make it work with their schedule. Building the calf barn gave them the opportunity to install an autofeeder that would eliminate that problem. Now, the autofeeder feeds calves six times per day. At each meal, calves have the ability to drink up to 2.5 litres per feeding to a maximum of 15 litres of a 26:14 milk replacer per day; however, Mark says most of the calves average about 11 litres per day.
Calves stay on that feeding program until day 37, when they start weaning. Each day, Mark says they cut back on the milk ration a little bit until day 70, when the calves are entirely off of milk. In addition to the milk, calves receive water and starter from day 1. The result: The calves have an average daily gain (ADG) of 0.92 kilogram from birth to weaning. More excitingly, Clarence says it is a pleasure now to feed calves. It's still only a robot, so they still have to be there to manage it, but it works well. Wendy will show the calves how to use it a couple of times, but they figure it out quickly. The Markuses also like having the data to help them monitor calf health and performance.
Ventilation was their other major concern when building the calf barn. While they knew they could go back to hand-feeding calves if the autofeeder didn't work out, the ventilation would be critical either way. The barn uses a positive-pressure system with three tubes that distribute the air throughout the barn and help keep the calves breathing fresh air.
In the winter, the barn has four full air exchanges per hour. In the summer, the air changes more frequently, based on the temperature and humidity in the barn. While they did this for calf health, Clarence says this level of ventilation also makes them need to use less bedding since the constant air flow keeps the pens drier.
Finally, to keep calves clean and dry, they add new bedding daily. In between calves, they remove all of the bedding, take the pen outside and wash it. While it doesn't always happen due to calf numbers, Clarence says they try to do this in groups of eight.
Thanks to these changes, Mark says the calf mortality rate has dropped to 1%, and they only need to treat 2% of their calves for pneumonia and 2% for scours. In addition, the heifers are growing and maturing sooner than before. Instead of breeding the heifers at 14 or 15 months, they're now breeding them at 12 months, and the heifers freshening in are producing about 500 kilograms more milk in their first lactation.
Going forward, Mark says they'd like to get their inventory up so they can start eliminating calves that aren't performing or gaining well. Clarence says they're also considering expanding the barn to hold a second calf feeder and expanding from 32 to 64 individual pens. This would give them more space to raise calves for themselves and to potentially custom-raise calves for Mark's two older brothers, who both own and operate their own dairies.
PHOTO 1: Mark (left) and Clarence (right) in the preweaning side of the calf barn. The barn houses about 100 head and is divided into two sections, pre-weaning and post-weaning up to 6 months. The preweaning area contains 32 individual calf pens. They also have an attached room for storing supplies.
PHOTO 2: Calves receive 4 litres of colostrum within a few hours of birth. In the summer, they're moved into a pen in the calf barn right after. In the winter, they'll spend a few hours in a warming area before going to the calf barn.
PHOTO 3: When calves reach 70 days old, Clarence says they aren't even asking for milk anymore, so they transition onto solid feed fairly well. Photos by Jenna Hurty-Person.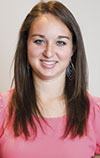 Jenna Hurty-Person

Field Editor
Progressive Dairy