Ultrasonography is gaining momentum as a way to monitor lung health in young dairy cattle. An ultrasound exam takes less than a minute and helps us understand the presence and severity of underlying pneumonia.
It also offers a consistent and accurate definition of disease and can facilitate both individual- and herd-level decision-making when performed by a trained individual.
Directly assessing the health of the lung is helpful because the severity of lung disease is not well correlated to the severity of clinical signs.
Veterinarians can assess lungs simply by applying a small amount of rubbing alcohol to the calf's hair and guiding the ultrasound probe between the ribs on both sides of the chest.
When we combine lung ultrasound with clinical scoring, we find that roughly one-third of new cases of respiratory disease are subclinical, and there can be two to four cases of subclinical pneumonia for every existing case of clinical disease.
We have already learned that lung ultrasound is a more sensitive way to find calves with lung disease and that we can assess the severity of the pneumonia.
It is more accurate than a stethoscope, and the pneumonia lesions that we see on the ultrasound mean the calf will grow slower during the preweaning period.
Additionally, affected calves are less likely to become pregnant and survive to first lactation. We can also see how soon lung lesions develop after infection and how the lung responds to treatment.
Subclinical disease can change independent of clinical disease and can flag that something is broken in the system prior to an increase in clinical respiratory disease.
On a related note, clinical response to treatment does not always coincide with resolution of lung lesions, and you might be misled as to how successful your treatment protocols are when relying solely on resolution of clinical signs.
More recently, we have learned there is an association between ultrasonographic lung lesions and future milk production.
Compared to unaffected calves, being diagnosed with at least 3 centimetres of ultrasonographic lung lesions during the preweaning period was associated with approximately 545 kilograms less milk during first lactation.
In herds where the prevalence of lung lesions is high, this means a large proportion of replacement animals might not produce milk at their full potential, at least during their first lactation.
With any new tool comes several questions about the best method for using this new information. What should you do with calves that have these lung lesions? Is it worth treating the calf? Are they all doomed to failure?
Not necessarily. In fact, there are four things that can help you determine whether or not treatment is warranted. These include:
The amount of lung disease
The character of the underlying lung tissue
The treatment history of the calf
Current body condition of the calf
In other words, the decision to treat a calf will be an individual choice that takes into account the ultrasound findings, the systemic well-being of the calf and the probability of responding to additional treatment.
Calves that have a very large area of abnormal lung, lung abscesses or lung necrosis do not respond well to treatment and are less likely to survive to first lactation.
Similarly, when body condition is poor, response seems to be poor. All of these changes likely reflect chronic lung disease and reduced likelihood of response.
While it is not realistic to expect your veterinarian to ultrasound every calf on your farm or even every calf you diagnose with pneumonia, periodically ultrasounding a subset of calves at a predetermined frequency for a predetermined reason can provide you with useful information and help you make management decisions.
The key to success is to know what questions you would really like to answer. Ten questions you can answer using lung ultrasound include:
How many calves have pneumonia, and is this higher or lower than last month?


When are my calves most likely to get pneumonia?


Which barn is more likely to have sick calves?


Are we finding sick calves early enough?


Are my treatment protocols (or vaccine protocols) working?


Why are my calves not growing well?


Are the new positive-pressure tubes I installed working to improve lung health?


Is metaphylaxis worth the cost of treating every calf?


I'm overcrowded; who should I keep?


Should I buy this show animal or replacement heifer?
Some dairy producers have been unpleasantly surprised to see how many of their calves actually have pneumonia when lung health was assessed using ultrasound.
After obtaining this new information, they were able to shift their focus and prioritize management changes to improve lung health.
Consider working with your veterinarian to get an overall assessment of lung health and discover opportunities to improve respiratory health, calf well-being and the future productivity and profitability of your herd.
PHOTO: Recent studies show an association between ultrasonographic lung lesions and future milk production. In fact, calves with at least 3 centimetres of ultrasonographic lung lesions during the preweaning period have been shown to produce approximately 545 kilograms less milk during their first lactation than calves without lung lesions. Staff photo.
References omitted but are available upon request. Click here to email and editor.
Tricia Dunn, M.Sc., is a research assistant at the University of Guelph. Email Tricia Dunn.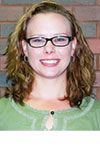 Theresa Ollivett

Assistant Professor, Food Animal Production Medicine
University of Wisconsin – Madison School of Veterinary Medicine