Automated milking systems have been around long enough to no longer be considered "new," yet adopting these systems still comes with a learning curve and some questions that remain unanswered.
A recent project completed by Robert Matson, a member of Wallenstein Feed and Supply's ruminant nutrition team, observed 197 automated milking systems on dairy farms across Canada to collect information on nutrition and other management factors that contribute to the success of these operations. The results of this project provide background and basis for several management recommendations Matson offered during his presentation at this year's Grey Bruce Farmers' Week held in early January.
1. Focus on factors that influence milk yield and quality
Breed, management practices, bedding, ventilation and barn design all play into milk production levels and milk quality.
Matson's study found farms milking Holstein cows produced 9.2 kilograms more milk per day than non-Holstein breeds. Of the farms studied, those that bedded their stalls with sand bedding instead of organic alternatives were observed to have increased milk production. The farms using sand bedding were found to be associated with a 1.5-kilogram increase in daily milk production per cow.
Barn design factors such as ventilation and bunk space are also impactful on milk production, although to a lesser degree, according to Matson's findings. Mechanical ventilation was determined to have a positive impact on summer milk yield compared with natural ventilation. Matson affirmed ventilation was determined to be significantly better than no ventilation, especially from an economic standpoint.
Additionally, each supplementary 10 centimetres of feedbunk space given per cow has been found to increase milk production by 0.3 kilogram per cow per day.
Furthermore, with every five feed push-ups per day, daily milk production gains of 0.35 kilogram per cow were observed. "The more times you can push the feed in per day, the better, and the research backs this up," Matson said.
Beyond production increases, many of these factors also influence somatic cell count (SCC). For example, sand bedding will increase comfort and cleanliness and discourage bacteria proliferation, provided scraping practices are well established. This ultimately decreases SCC. Increased alley cleaning frequency and alley width were also associated with decreased SCC.
Likewise, sand bedding was found to decrease clinical lameness, when compared with organic bedding, in farms observed by Matson and his team.
While these factors are numerous and not limited to one aspect of a robotic dairy's operation, Matson said the ripple effect of each individual area on the success of the facility overall is evident. "Everything works in concert in a robot barn," he explained.
2. Decrease the prevalence of clinical lameness
Reducing the number of lame cows is already a priority for many Canadian dairies, with or without automated milking systems. However, according to Matson, a few key factors could be tied to lameness prevalence on robotic dairy farms.
To decrease clinical lameness prevalence in a robotic dairy herd, Matson suggested increasing feedbunk space available to each cow, as this reduces competition and bullying.
If sand bedding and adequate feedbunk space are already given and concerns over lameness remain, Matson noted another factor worth examining is decreasing the number of underconditioned cows in the herd. Every 1% increase in underconditioned cows was found to be associated with 1.2 times greater odds of having severely lame cows.
Similarly, each 1-centimetre increase in stall curb height, over 30 centimetres, has been linked to the same odds of observing severely lame cows.
"I'm not saying you need to go out and remove curbs, because there is an advantage to curbs. They keep the bedding in, they provide you with an area that you can maintain, but those 30-centimeter-plus curbs found in some barns aren't the best for cows to be walking over all the time," Matson cautioned.
By mitigating concerns caused by these factors, Matson projected a decrease in the number of clinically lame cows, thereby resulting in increased daily milk yield per cow.
3. Motivate milkings with the right nutrition program
Managing lameness may also have an impact on milking frequency. Matson cited other studies which found that a lower milking frequency, meaning a lower number of visits to the robot by a cow or herd, can result in greater prevalence of clinical lameness.
Aiming for higher milking frequencies should be prioritized, as studies have found this to be associated with increased milk production.
Nutrition becomes a factor in motivating and therefore increasing milking frequency because cows have a greater motivation to consume feed than to relieve udder pressure. Matson cited this as the reason lure feed is offered in automated milking systems. However, he warned against increasing concentrate offered in the automated milking system as a straightforward solution to increased milking frequencies.
"The additional concentrate in an automated milking system does not always translate to increased visits when cows are provided the same feed. What you get is a replacement of the cows' intake from the robot intake, which will displace some of that fibre and the rest of the aspects we're looking for that cow to get at the feedbunk. Therefore, we have partially mixed rations [PMRs] in robots. We don't have total mixed rations [TMRs]. That is an important factor to consider in terms of how much is too much," Matson advised.
Conversely, providing less concentrate in an automated milking system has the potential to create more fetch cows and lower the milking frequency. Matson described this dilemma as a "Goldilocks" issue.
He recommended farms offer pelleted barley or other pelleted feed in the robot, as cows prefer the higher-density product which they can consume greater amounts over a shorter period, compared with a steam-flaked product.
For farms in search of ways to decrease box time, Matson explained, "A pelleted barley, or a pelleted feed, is superior because it does the job very well. That doesn't mean quantity feeding doesn't work, but I can give you more cases of quantity feeding not working than working."
"Looking at the physical stability of the pellet, maintaining pellet quality and optimizing pellet quality, while also optimizing palatability, are the most important factors," he noted.
"The biggest take-home message is that you want to manage for a comfortable environment for the cows. [This can be achieved with] sand bedding, adequate ventilation and ensuring both proper nutrition management and nutrition. This involves having a qualified nutritionist look over your feed and good quality support on farms, with good vets and equipment suppliers to both minimize your competition and see the production levels you want out of your final feed," Matson concluded.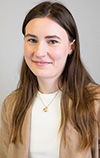 Emma Ohirko

Editor
Progressive Dairy