When working with dairies that are learning about robotic milking equipment, we always discuss maintenance costs. People tell me they've heard this cost is high. They want to know if this is true and, if so, why.
This conversation is an important one, as every aspect of robotic equipment ownership should be fully understood so there are reasonable expectations.
Potential robot owners need to know not only the anticipated costs for robot maintenance but also whether they can justify this expense and how they might minimize this cost without sacrificing performance.
The short answer to the first question is: Yes, typically, robot maintenance costs are higher than those for conventional milking systems.
It is important to realize "high" is a relative term, as maintenance is often considered in comparison to what a dairy manager has experience with, such as a milking parlour or tiestall system.
Since robotic milking equipment is substantially different than traditional milking equipment, the maintenance cost issue is really an apples-to-oranges comparison, somewhat like comparing the operation and maintenance of a horse to that of a tractor.
Just as the equipment is different, so are the typical benefits realized by robotic dairy operations.
By understanding these benefits, prospective robot owners can better determine how significant their maintenance cost would be in the big picture, that is, when the added benefits of robots are calculated against the costs. In doing so, we can best define the likely payback.
Robotic milking equipment is quite different from parlour milking, and there are a lot of unique benefits that can be derived. From the list in Table 1, you will see a number of significant differences in the capabilities and benefits of milking robots compared to the equipment found in milking parlours.
Click here or on the image above to view it at full size in a new window.
These unique robotic functions require different equipment, and different equipment requires different maintenance.
Going back to the horse versus tractor example, the horse costs much less and requires less maintenance, but it also accomplishes much less and comes with other challenges.
What are the costs?
First, it varies significantly by manufacturer. The new Lely A5 Astronaut I sell has improved technologies that help lower the cost of maintenance.
Since all robot brands and models are not created equal, specific maintenance needs vary considerably from model to model and brand to brand. The differences here are far greater than what you might be used to in comparing different tractor brands.
Based on the previous models of robots I've sold, I've seen equipment well-maintained by dairy staff having an average cost of maintenance of approximately $8,000 per robot per year or $1 per operating hour (and that's on machines running 10-plus years).
The variance in the range of costs I see is significant. Some robot dairies spend less at $5,000 per robot or 65 cents per operating hour, while others can be substantially higher than the average.
The reason for the higher end cost is almost always less farm staff involvement, which means more dealer-paid services or possibly a less-than-adequate adherence to regularly scheduled maintenance.
I always advise those doing their homework to question and verify what they hear about maintenance costs by talking with a number of well-seasoned robot operators.
Be sure to ask each producer what is included in that amount, as each farm might calculate maintenance differently.
I have noticed the cost of chemicals and rubber goods to be similar to that of a parlour milking 3X. It would be helpful to consider and compare this amount separate from labour and materials used to maintain the equipment.
What can be done to minimize robot maintenance costs?
1. Do your daily maintenance. This includes cleaning the machine and checking a few various items. This takes five to 10 minutes per robot per day.
2. Learn. Several people on your staff should learn how to clean, maintain and service the equipment. At our dealership, we continually train our robot customers to do as much as they are willing and able to do. As a result, we've seen some dairies cut their repair and maintenance costs in half.
3. Keep up with regularly scheduled maintenance. Follow the manufacturers' recommendations. It pays off in less downtime and more milk produced.
4. Observe your machines in operation. Robots run 24-7 with minimal attention, so they can be easy to overlook. Don't fall into this habit. Take a few minutes to watch each machine at least once daily to see what they are or are not doing. Take notifications seriously and be proactive to avert possible problems.
5. Invest the time upfront to save it in the future. Your staff can be constantly learning on the job. Our dealership regularly provides substantial in-person, as well as phone, support to our customers as they diagnose a particular problem or perform maintenance. Don't shortchange the heartbeat of your operation. Once you perform a task or procedure a few times, you'll know how to provide the necessary solution in less time in the future.
The fact robots run 24-7, or 8,760 hours a year, is also a significant factor to consider. Robot maintenance costs can typically be offset by the value the robotic equipment, information and unique management style delivers.
Cost is one thing to consider; return on investment is, obviously, quite another. Ask yourself how much your operation would benefit from the added capabilities of a robotic system.
What will your labour cost savings be? This answer will depend on how you're performing tasks today, what results you're getting and what it costs to get today's results.
Invest your time before you invest your money, and do your homework. Talk to a number of experienced robot users, ask what benefits they've realized and then consider how these changes would reasonably apply to your operation.
Your robotic milking equipment dealer can direct you to dairies that are employing robots (similar to your operation) so you can see and hear how the operation has changed beyond its maintenance costs.
PHOTO: Potential robot owners need to know not only the anticipated costs for robot maintenance but also whether they can justify this expense and how they might minimize this cost without sacrificing performance. Staff Photo.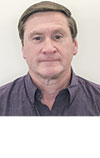 Whitney Davis

Manager/Supervisor
Finger Lakes Dairy Services