Think about a world where you didn't have to worry about rising energy prices and the negative impact they have on your farm income – a world where you can fulfill your own energy needs.
The Energy Independent Farm envisions farmers becoming completely energy self-sufficient, generating all the energy they need – including fuel for their machines – from renewable resources. Once only a dream, it's now a reality thanks to biodigesters and the methane-powered tractor. Using an on-farm anaerobic digester, dairy producers are well positioned to make this vision a reality.
Manure provides a unique opportunity for larger dairies to achieve energy independence. Manure has always traditionally been a resource on the farm as a fertilizer, but now, it can generate a new income stream as biogas, a clean, renewable energy source. Biogas can be used to generate electricity, to fuel boilers or furnaces or to create pipeline-quality gas or compressed natural gas as a vehicle fuel for on-site use or sale to the local grid. Using anaerobic digester technologies, farms have the space and raw materials to be able to produce their own fuel-grade methane from manure, energy crops and food waste material that can be easily sourced from factories, supermarkets, schools and restaurants instead of being dumped into landfills.
Biomethane was initially embraced in Europe, where the push toward alternative fuels is strong and there's a higher concentration of biodigesters. In the U.S., particularly in California, biomethane is being produced by dairies as an alternative fuel to help achieve the state's greenhouse gas emission reduction goals while protecting local air quality.
AgSTAR (a collaborative program sponsored by the EPA and USDA that promotes the use of biogas recovery systems to reduce methane emissions from livestock waste) cites some interesting statistics. They estimate that biogas recovery systems are technically feasible for over 8,000 large dairy and hog operations in the U.S. These farms could potentially generate nearly 16 million megawatt-hours (MWh) of energy per year and displace about 2,010 megawatts (MWs) of fossil fuel-fired generation.
One of the biggest obstacles to the widespread adoption of on-farm biodigesters has been cost, which can end up in the seven-figure range. To help pay for up-front capital costs, several funding sources are available. Farmers have used grants, cash reimbursements, loan guarantees, industrial bonds, private funding and other cost-sharing agreements to fund biodigesters. According to AgSTAR, there are currently 273 manure-based anaerobic digestion systems operating in the U.S. Of these, 108 systems have been awarded grants by the USDA. AgSTAR points out that revenue generated from the system's operation can also offset initial capital expenditures. These include the sale of electricity, fuel and other coproducts – like soil amendments, compost and fertilizer – that are generated by the system.
Methane-powered tractors are integral to the Energy Independent Farm concept. The first production unit of the methane-powered tractor was unveiled at Agritechnica, an international ag trade show, in 2019. Commercially available production units are already at work in areas of Europe where biogas production is advanced. In the U.S., units that comply with North American standards are being field tested this year.
Methane has become a commercially viable fuel for tractors, thanks to the developing compressed natural gas (CNG) distribution network and on-farm biodigesters, as well as the ease of fueling and storage. The availability of methane fuel will continue to grow as many of the largest oil companies are expanding the methane production and distribution network as they strive to meet greenhouse gas emission requirements.
But what about operational performance? The six-cylinder methane-powered tractors deliver the same power and torque as their standard diesel equivalent and have the same durability and service intervals. While overall cost savings will vary based on the price of fuel, when using network methane, running cost savings of up to 30% can be achieved. If farms use 100% on-farm produced biomethane, their fuel costs could potentially be reduced to zero, an enormous stride toward energy independence.
There's another plus that's important when you consider sustainability. The methane-powered tractor is a substantial step forward on the path to decarbonizing agriculture. Methane delivers significantly lower engine emissions than traditional diesel. When running on methane, CO2 emissions are reduced by a minimum of 10% in real working conditions and become virtually zero when using biomethane. Polluting emissions are, on average, reduced by 80% compared to a standard diesel engine. Biomethane produced from energy crops and waste has virtually zero CO2 emissions. And biomethane produced from manure actually subtracts CO2 from the environment. In addition, the methane tractor engine runs quietly, reducing noise pollution by about 50%.
There's no doubt that methane-powered tractors can significantly lower the environmental impact of agriculture. The Energy Independent Farm model, which closes the loop between agricultural production and energy generation, can make farming CO2-neutral – or even carbon negative – with significant benefits for farmers working toward a more sustainable future.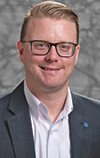 Mark Lowery

Director of Commercial Marketing
New Holland