Building a new facility is a big job. Whether it's a new build, a renovation or future plans, the implementation of a well-thought-out plan is key to success. Learning from others' mistakes and building to suit individual needs can save dairy producers money, time and headaches in the long run.
During the 2018 London Dairy Congress in London, Ontario, three local dairy producers shared their individual experiences in building a new facility.
Members of the panel "New Facility Construction – Avoiding Pitfalls" included: Stefan Weber, Scenic Holsteins, St. Marys, Ontario; Rolf Haanstra, Greiden Farms, St. Marys, Ontario; and Curtis McNeil, Heather Holme Holsteins, Goderich, Ontario.
Did you follow a specific model for your building?
WEBER: We can't really say there was a specific model we followed. We toured lots of barns and picked ideas we liked. We wanted to give the cows lots of space, so we went 15 feet in the front alley and made the crossovers wider.
HAANSTRA:The last barn we built was a heifer barn, five years ago, and we modeled it after the current dairy barn we have now. We built it big enough so we could milk dairy cows in there one day, if needed. On the second farm, we're switching to robots, so we're using the same design for the new barn too. My dad has always been a believer in the tail-to-tail idea because he likes the cow management side of it, where the cows don't get disturbed when they are lying down beside each other.
MCNEIL: When we were in the planning stages, we toured a lot of barns looking at different options for milking equipment. We picked up a lot of small, different things other people did right. One barn I really did like was Larenwood Farms, in Drumbo, [Ontario], so our barn would be very similar to his. Our barn is 264 feet long and 104 feet wide, and we have cows split up into groups – dry cows, fresh cows, mature cows and 2-year-olds. People were concerned when we were planning there would be a lot of different groups to take to the parlour, but we're really happy with the design and how the different groups have worked out for those individual groups of cows. We decided to go with a wider platform so they would have more breathing room and better ventilation. We have an 18-foot platform for the mature cows and a 14-foot scrape alley, but then for the 2-year-olds, we were able to condense with a 13-foot scrape alley at the front and 17-foot platform and then a 10-foot scrape alley at the back.
What was the biggest obstacle you had to overcome?
WEBER:We got to a certain size we needed a firewall. It needs to be engineered so, if you start early enough and you know all your specifics, then it's not a big deal – but for us, it didn't come up until we had already started construction, so this slowed us down. Weather can also be a big obstacle, so if you can plan your barn so you do your excavating during a dryer part of the year, that's probably better than trying to start it in the bad weather.
HAANSTRA: For us, it was the excavating bill. We actually did a cut and fill report (survey) on the farm, but even with that it was a bit off … the bill ended up being higher.
MCNEIL: You always know excavation will be one of your biggest costs. When it came time to dig the footing, we were already at footing level, so the whole barn had to come up 3 to 4 feet. After hundreds of loads of gravel to get the slope right, something you thought was going to cost $80,000 goes up to $120,000 and puts things into perspective. We didn't have any other serious obstacles, just unrealistic time expectations where you think 'OK, we can do this in six to seven months' but the contractor says, 'You'll be lucky if you're in by Christmas.' We ended up milking by March – so he was a little more accurate than we were.
Name one thing you would have done differently.
WEBER: Some of the things you don't think about as much, like the water lines and boot washes that are going to freeze up on you. It took us the first winter to realize we need to winterize. Then one more thing: If we were to start from scratch again, we would probably make the barn 2 feet wider and go to 10-foot alleys in the back instead of 9-foot.
HAANSTRA: The scrapers only drag manure and, whether you have a chain or wire, you're always going to get a puddle of manure at the front if you're pushing your manure to the back. So in the new barn, we're putting a pit at the front and then installing a fluid pipe at the back to take the water. We have that at the home farm now, so we never have to scrape our corners, and it's always nice and dry. We did not do that in the heifer barn, and that is one thing that comes back to us every day; it's always a mess at the front and, even though you scrape it, it can be a half-hour later, and you have the same problem again.
Another thing … make sure you are there when the builders are there. You need to be there for every little thing they're doing, especially when the concrete goes in. Walk around every night after they leave and see what they did because if you're going to make changes, it's a lot easier right then instead of a month later.
MCNEIL: We haven't had any problems we know of yet. One thing we did do – that was worth the investment – was putting floor heat in our gutter. Our pit is only 12 feet deep, and we have a stable cleaner with a 2-foot drop at the end of the barn that directly drops into the pit, so there would have been lots of freezing problems without the heat.
Where could you have saved money, better spent your money or spent more money on?
WEBER: The one thing that costs us a lot of money is our flush system for the parlour and holding area. At the time, we were questioning whether we should do it because it is a really big expense, but now we're really glad we have it because it's saving us time and water (since it recycles the water). You have to look at it from a long-term perspective and save money on stuff you can add on later. Also, if you're trying to save money, go to the U.S. You'll build a different barn than if you toured barns around here.
HAANSTRA: Spend money on the needs and not on the cosmetics. Keep the barn simple. I do recommend headlocks. Whether you have heifers or cows, it's a lot easier working with the animals, since they can't escape from you – it's definitely a payback.
MCNEIL: When you're doing your barn plans, take all of your original ideas and figure out everything you think you would want (if you had all of the options) and then think what's realistic and what you actually need. Sometimes people will put in a lot of technology to "save labour or make life easier," but sometimes simpler is better – the fewer things to break. Also, to save some money, we didn't put brushes in right away. But the one thing we did do, when we were putting cement in, is run conduit from the outside walls and up the pipes to go throughout the barn for wherever the brushes will go in the next couple of years. Leave yourself those options.
What is your setup for footbaths and hoof trimming?
WEBER: We have an [automatic] footbath built right into the return lane. Our hoof trimming area is off in our sorting area – we don't use it every day but at least one day a week – we hoof trim our own cows.
HAANSTRA: In the heifer building, we don't do any sorting; we just go in and find the cows ourselves. In terms of footbaths, on the home farm we do it in the return lanes with an automated mixer. The heifer facility [has an automated mixer], and we put the footbaths in between the middle of two different groups so it is just a matter of switching gates.
MCNEIL: We have two footbaths – one in each return lane. I tried to look at the option of putting it in the sort lane right before the sort gate, but we couldn't get the slope of the drain because of the elevation difference. For hoof trimming, we have a portable hoof-trimming stall at the end of the pack area where our close-up cows are. We have a regular hoof trimmer who comes in a couple of times a year, so I only do any that have a sore foot, but we haven't really had sore feet in the last year. One thing you have to be very careful of is the fresh concrete. People tell you, "Don't trim your cows six months before moving into a new barn, especially if you go from a tiestall," but I would say that would be your exact minimum. I would think eight months to a year would be better because we had cows with feet on them that were longer than you can imagine, and in two weeks you would swear you had trimmed the whole herd because they wore their feet down around 2 inches.
What considerations did you take into account for ventilation?
WEBER: We're still naturally ventilated with curtains, and we have 4-feet basket fans on top of the cows where they're lying down.
HAANSTRA: We always liked a naturally ventilated barn. We have curtains … and most of the time they're open all the way. You're only using fans or sprinklers in the summer, and in the winter we don't need them.
MCNEIL: Ours is naturally ventilated with 14-foot sidewalls and put the MaxAir curtain in – we're really happy with it. There are 32 fans in the barn and four in the holding area. The coolest place on our farm is in the barn. On the hottest day of the year last year, the bulk tank dropped 40 litres, that was it. The boxed fans move a lot of air. One thing we were told was to make sure you always have the fans in sequence of groups (running at the same time), so we have two fans over each set of stalls and then one in the scrape alley/where they eat.
In summary, moderator David Johnston, Nuview Holsteins, Thorndale, Ontario, stressed the importance of "planning, planning and planning" to avoid pitfalls that may happen with a new build.
There is no set blueprint to fit every construction, but taking the time to research, ask questions and listen to others' experiences will go a long way in the end.
PHOTO: Left to right, Stefan Weber, Scenic Holsteins; Rolf Haanstra, Greiden Farms; and Curtis McNeil, Heather Holme Holsteins, discussed their challenges with building new dairy facilities at the 2018 London Dairy Congress. Photo by Lora Bender.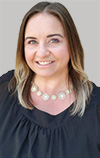 Lora Bender

Editor
Progressive Dairyman