For 29 years, Hugh Smythe has made a living by making cow comfort a priority. As a hoof trimmer, he spends his days making sure cows throughout British Columbia can put their best hoof forward.
Smythe hails from Vancouver Island, where he does most of his work. However, he also travels to northern and eastern British Columbia to trim around 10,000 cows each year.
When asked what is the best part of his job, Smythe is quick to reply that it's the people he serves. "My clients are more like family," Smythe states.
He also identified these five critical items that make it possible for him to trim effectively and efficiently every day:
1. "My wife." Smythe says there is no better motivator who encourages him on a daily basis than his wife of 29 years, Shawna Smythe.
2. "I wouldn't be trimming without my elevator chute." Smythe credits his well-made, trimmer-friendly chute from Appleton Steel with buying him "a lot of years as a hoof trimmer."
As the cow enters the chute, it lifts the animal for him to work on it, compared to the previous method of bending over to trim. The result is a more ergonomic work space.
3. Disks and grinders. Titanium discs (Trim-Tec) and a well-made grinder (Metabo) help Smythe save time and money while trimming. The replaceable carbide blades are lightweight, thus reducing trimmer fatigue.
"I can't put a price on the value of these tools," Smythe adds. "They result in cow comfort and impact how quickly the job can be done and cows can get back to the bunk and making milk."
4. Western Canadian Certified Hoof Trimmers Association. As a member of the WCCHTA, Smythe keeps up on his continuing education and skills by completing a recertification program every two years.
He also believes there is value in collaborating with other progressive trimmers to bring consistency to their work and the knowledge they share with clients in the field.
"If you're not moving forward, you are moving backward," he says. "This is one way of moving forward as hoof trimmers."
5. Block adhesive and wrap. For nearly 30 years, Smythe's staple products for holding it all together have been Mini Moo Gloo for attaching blocks and cattle wrap for applying treatments and wrapping digital dermatitis and white-line lesions.
PHOTO: Hoof trimmer Hugh Smythe. Photo by Peggy Coffeen.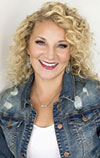 Peggy Coffeen

Editor
Progressive Dairyman