Rob Geier and his hoof-trimming team canvas central Alberta with Casper Trimming Ltd., seeking to solve problems, educate clients and decrease the incidence of lameness among more than 100 dairy herds and 26,000 cows.
Though Geier grew up on a crop and cattle farm, his ambition was not to be a hoof trimmer. He planned to trim for a couple of years while saving money to go on to school to study seed science. Today, 17 years later, he offers services that extend far beyond just trimming toes. "My business has changed to doing more problem-solving and educating," Geier explains. "Interacting with producers has become my favourite part of the job." His scope has expanded to include consulting and educating, as well as instructing other trimmers and dairy farmers through courses with Lakeland College, Olds College and the Alberta Dairy Board.
Additionally, Geier is a founding member of the Western Canadian Certified Hoof Trimmers Association. "We started out as a like-minded group, in that we knew we needed to do more to better ourselves," Geier says. "When we did our research, Pieter Klustermann gave us practical training, and we developed a certification program. The purpose is not to control what we do, but reduce our liability and keep our base skills to a high standard." The group provides valuable trimming data for lameness research programs at the University of Calgary and University of British Columbia.
When he's not trimming cows or educating others, Geier spends his time watching and coaching youth sports.
Progressive Dairy asked Geier what five things he could not do his job without:
1. Knowledge and education:
"At the end of the day, we are here to reduce lameness, and without a strong education, we are not able to solve those problems. I do my continued education. I've got a goal to be formally trained in all three of the main trimming methods used in North America. It's my goal to build my repertoire. I believe every animal can't be trimmed the same; each needs its own individual, therapeutic treatment."
2. My team:
"The modern dairy farm is about efficiencies. If we can be more efficient, we leave the farm with a happier cow. My team enables us to do a large amount of cows in a shorter time frame while keeping a high standard of work through the expanded labour force. It has made a hard job much easier."


3. Data recording system:
"I have used a data recording system since 2008. I currently use All 4 Feet. Through this system, we can identify the issues and track the progress of each cow and the entire herd. Through the collection and storage of data we can monitor the issues and problem solve to reduce lameness. It gives the farmer a visual of the current situation and trends, and they can actually see the cost benefit of trimming and what they could have lost in lameness. It makes it easier to identify what we need to do to prevent economic loss. The dollar sign puts an importance to it for the dairy farmer to be motivated to reduce the lameness."
4. Equipment:
"It doesn't matter what brand it is; all current brands are very efficient and comfortable for the cows. Cows still see us as predators. There's always the fight-and-flight reaction. If we can lessen their stress, that keeps the milk tank full. When dealing with livestock, there's always a matter of risk. The equipment takes a lot of that risk out today."
5. Technology:
"I do a lot of business from my iPhone, including keeping calendars synched up among the crew so everyone can see changes. I text most of my farmers because I see many of them using smartphones.
PHOTO: Rob Geier (courtesy photo)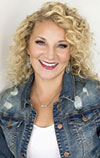 Peggy Coffeen

Editor
Progressive Dairy