With lameness costing an estimated $380 to $825 per cow, hoof health cannot be overstated. Treatment costs, decreased fertility, loss of milk yield, decreased longevity in the herd as well as labour costs are all contributing factors.
How can we best defend against lameness?
Proper bedding
Keeping hooves dry and clean
Proper nutrition
Stall design, maintenance and rest
Non-slip flooring (rubber in high-traffic areas and long lanes)
Overcrowding and heat stress prevention
Maintenance trimming
Providing clean, dry bedding and scraping as often as needed for hooves to stay out of wet manure sludge helps prevent damage to the hoof.
Footbath design
At least 10 feet long, 2 to 3 feet wide, with 10 inches of solution and long enough to ensure each foot receives two dips in the footbath. Solid sides prevent cows from diverting around the footbath.
Frequency and product used in the footbath will vary depending on the amount of organic matter on the hooves and the pH change in the footbath after use. Maintain a footbath pH within 3 to 4.
Overcrowding
Overcrowding reduces lying time. At higher overcrowding rates, all cows are affected, which starts to affect cow welfare and decreases productivity. During times of heat stress, cows start to modify their behaviour to dissipate heat. They will spend less time resting and lying down because their internal temperature increases more when lying down versus standing. This reduces feed intake, increases the inflammatory state and reduces milk production, which can lead to lameness in the next few months. Heat abatement strategies such as running fans over the stalls and sprinklers over the feedbunk help minimize the effects of heat stress.
Time budget
Approximately four hours or less of each cow's day should be spent walking to the parlour, standing in the holding area and returning from the parlour. The rest of the day should be spent eating, drinking and lying down. If standing times are prolonged, there is more stress on the feet, which directly increases lameness.
Trimming
Maintenance trimming is important because it removes excessive growth and redistributes the forces that occur within a cow's foot to avoid excessive pressure on the sole ulcer location. This should be done at least twice a year.
Lameness scoring is also an easy way for the owner/producer, employee, vet or hoof trimmer to keep a close eye on how the herd is doing overall before more severe problems occur.
PHOTO: Hoof trimming. Photo by Peggy Coffeen.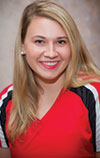 Angie Garavet

Professional Services Veterinarian
Armor Animal Health