Does your transition cow program include administrating calcium to treat milk fever? Do you also use calcium treatments to help cows transition into lactation? If so, it's time to re-examine your program and try something different.
Thanks to a new generation of anionic products, feeding a moderate negative DCAD diet to pre-fresh cows is easy and beneficial for all dairy sizes.
Decades of research demonstrate milk fever prevention is just one of many benefits from feeding negative DCAD diets. Two recent meta-analyses showed negative DCAD diets improve transition cow health and productivity.
Cows fed a negative DCAD diet during the close-up period have reduced incidence of retained placenta and metritis, and multiparous cows have increased yields of milk and milk components.
If you already do a good job with feeding management and monitoring pre-fresh cows, then implementing a moderate negative DCAD diet is just adding some minerals.
Cows on a moderate DCAD diet are mildly metabolically acidified with a urine pH of 6 to 7, which gives you a little safety margin in case DCAD drift occurs.
With moderate DCAD, you don't have to worry about adding a lot more work or more management time to care for the cows. Moderate DCAD is a simple program that works.
How to get started
Step 1: Make the decision
You may have tried anionic salts before, or know someone who did, and it didn't go well. Today, our understanding of how best to manage DCAD programs, coupled with the development of commercial anionic products, has increased success.
Today's products are highly palatable, allowing you to feed direct from the bag if desired, or they can be easily mixed into a pellet or concentrate feed.
With moderate DCAD, once you get cows into the sweet spot with a urine pH of 6 to 7, you only have to test urine pH after a change in forage, a case of milk fever or a noticeable reduction in how much the cows are eating. There's no need to test urine pH every week.
The transition to lactation is difficult enough for cows. Feeding a moderate DCAD diet during the pre-fresh period is an opportunity to prevent common fresh cow problems, help cows produce to their genetic potential and improve profitability.
Step 2. Select your anion source
The anions involved in DCAD balancing are chloride and sulphate. Chloride has been shown to be somewhat more effective at creating the desired metabolic acidosis, so evaluate the chloride and sulphate contributions of the anion products available to you.
The minerals calcium and magnesium are often balanced in close-up diets, so take a close look at the content of these and of all the minerals supplied by the anion product.
In addition, all close-up diets require some supplemental protein in order to meet the cow's metabolizable protein (MP) requirements.
Anionic supplements, for which the majority of the protein is true protein, will contribute more to the total supply of MP than will supplements containing added non-protein nitrogen (NPN).
Keep in mind, in many lower-energy close-up diets, ruminal microbes may not even be able to convert NPN into microbial protein for use by the cows.
Consider herd size and feed delivery methods when selecting your anionic product. If you only have a few close-up cows at any given time and wish to simply top dress the extra anions, opt for a highly palatable bagged product dilute enough to make weighing and delivering it practical.
For herds of all sizes, most anionic supplements are easily incorporated into a pellet or concentrate mix. Consider both the physical and the nutrient characteristics of the product.
Stronger (lower DCAD) doesn't necessarily equate with being better when you consider such important characteristics as consistency, mixability, particle size, particle size distribution and the ability to obtain a uniform blend in your close-up supplement.
Choose a product that will provide transparency in quality control and proof of consistency of DCAD level.
Step 3: Identify and test forage sources
Make a list of available forage sources, test using wet chemistry analysis and request the DCAD mineral package from the lab you use. When negative DCAD diets are used, the diet is balanced to provide more negative anions than positive cations.
This creates a mild compensated metabolic acidosis, which helps the cow absorb more calcium from the gut and pull calcium from bones to meet its calcium needs at calving.
That's why having a consistent or dedicated supply of low-potassium forage with accurate lab analysis is so important. A change in the mineral content of forage can quickly change the diet DCAD.
Wheat straw, corn silage and some warm-season grass hays are generally lower in potassium than alfalfa, oat straw and cool-season grass hay.
With moderate DCAD, because there is a safety margin, you don't have to reformulate the diet unless there is a drastic change in forage potassium.
Step 4: Talk to your current nutritionist
I can't stress this enough. Make sure your nutritionist has your best interests in mind. Ask the hard questions.
Do you believe the 30-plus years of research and on-farm application that have proven the benefits of negative DCAD diets?


Are you willing to help me move forward with my transition cow management?


Do you have experience balancing negative DCAD diets?


If you had a bad experience with DCAD back when dry blends of anionic salts were used, have you given it another try with the modern commercial anionic supplements?
In order to get good results from a moderate DCAD diet, there are several ration-balancing considerations. Your nutritionist should be knowledgeable of these, willing to learn more if needed and eager to help you.
After the conversation, if you believe your nutritionist is on board, give them the feed inventory with mineral analysis for the forages and ask them to formulate a moderate negative DCAD diet for the close-up cows.
A calculated DCAD of -10 milliequivalent (mEq) per 100 grams diet dry matter is a good starting point.
Step 5: Check feeding and cow management
Your feeding management and cow management should be top-notch, whether or not DCAD is part of your program. While implementing a moderate DCAD diet doesn't add much additional work, making a change to your transition cow program gives you the opportunity to revise your existing program as well.
Check existing protocols, review current performance, decide how you'll measure performance and monitor results. Timing of feed delivery, feed push-up, maternity care and monitoring are all important parts of a successful transition program.
Step 6: Start feeding a moderate negative DCAD diet and check urine pH
Three days after you start feeding a moderate DCAD diet, check urine pH. The size of your close-up group will determine how many cows' urine needs to be tested for pH.
In smaller herds with only a few pre-fresh cows, just spot-check urine pH in a couple of cows. Larger herds can use the average of 10 cows. If the average urine pH is between 6 and 7, you've hit the sweet spot and have implemented moderate DCAD.
If urine pH is a little high, increase the dose of anions a little, and if pH is a little low, reduce the dose of anions. With some anionic products, the anionic supplement rate can be adjusted straight from the bag.
Step 7: Monitor cows
With a moderate DCAD program, there is no need to constantly monitor urine pH. Yes, you need to check it when you first start to make sure cows become mildly metabolically acidified. But once you get cows in your target range with a urine pH of 6 to 7, you can get by with just checking urine pH after a known change in forage or if you notice something "off" in the cows.
For example, you have a case of milk fever or notice slow labor and delivery during calving (DCAD drifted higher) or you see a drastic reduction in feed consumption (DCAD drifted too low). All are things an astute dairy manager will naturally notice.
Retesting of forage should be your first step, as DCAD drift will likely be caused by a change in forage, but also take a minute to make sure all protocols are being followed. The most important task is to return the cows to a mild metabolic acidosis with a urine pH of 6 to 7.
Step 8: Relax and enjoy the benefits of moderate DCAD
After the initial start-up, there really isn't extra work to do. Your normal feed intake monitoring and cow observations should alert you if DCAD gets out of bounds.
Whenever you start a new forage source, even a different bag or bunker of silage, proactively test to determine mineral content. Adjust the pre-fresh pellet or amount of top dress if needed.
The beauty of moderate DCAD is the built-in safety factor. If drift occurs – most often from an undetected change in forage mineral content – and cows become more acidified than expected, there is a lot of room before they become overly acidified.
With moderate DCAD, there is no need for knee-jerk reactions to a small change in urine pH or to constantly check urine pH. Moderate DCAD is simple.
Weigh the benefits
Moderate DCAD diets reduce the incidence of milk fever, subclinical hypocalcemia, retained placenta and metritis, and result in more milk.
On-farm observations confirm mildly acidified cows are healthier, birthing proceeds more rapidly, and calves are born with more vigor and get up to drink colostrum sooner.
As a veterinarian in Ireland once told me, "Since starting with moderate DCAD, the cows aren't lazy at calving anymore."
Moderate negative DCAD is simple and effective. Isn't it time you gave it a try? The result could be healthier, more productive transition cows and a more profitable dairy.
Brandon Finke is a regional sales manager for SoyChlor.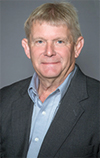 Tim Brown

Director of Technical Support
SoyChlor